Composer: Sri Tallapaka Annamacharya (Annamayya అన్నమయ్య) , May 9, 1408 – February 23, 1503 was born to Narayana Suri and Lakkamamba in Tallapaka, a village in current day Kadapa district of Andhra Pradesh. More….
Keerthana No.151; Volume No. 4
Copper Sheet No. 326
Pallavi:Devudevu Ditade (దేవుదేవుఁ డితఁడే)
Ragam: Dhannasi
Language: Telugu (తెలుగు)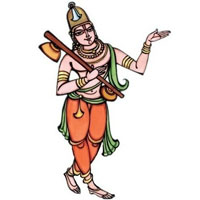 Recitals
Awaiting Contributions.
…
Awaiting Contributions.
[audio: audio-instrumental-file-name.mp3].
This Kriti was originally composed in Telugu. Other languages are for your convenience.
పల్లవి
దేవుదేవుఁ డితఁడే దివ్యమూరితి
యేవలఁ జూచినఁ దానే యీరూపై వున్నాఁడు
చరణములు
1.వేంకటాచలముమీఁదివిశ్వరూపవిశేష్ము
అంకెల ననంతావతారాలైనవిశేషము
లంకె సింగారాది సర్వాలంకారవిశేష్ము
యింకనిమహిమలతో నీరూపై వున్నాఁడు
2.అందరిలో సంతర్యామియైనవిశేషము
కందర్పుఁబుట్టించిన ఘనవిశేషము
ముందు జగముసృష్టించి మూలమైనవిశేషము
యిందరితోఁ గూడుకొని యీరూపై వున్నాఁడు
3.పరము(మ?)యోగీంద్రులెల్ల భావించినవిశేషము
అరుదైన వేదవేదాంతార్థవిశేషము
పరగ నలమేల్మంగపతియై శ్రీవేంకటేశుఁ-
డిరవై దాసులఁ గావ నీరూపై వున్నాడు
.
Pallavi
dEvudEvu@m Dita@mDE divyamUriti
yEvala@m jUcina@m dAnE yIrUpai vunnA@mDu
charanams
1.vEMkaTAcalamumI@mdiviSvarUpaviSEshmu
aMkela nanaMtAvatArAlainaviSEshamu
laMke siMgArAdi sarvAlaMkAraviSEshmu
yiMkanimahimalatO nIrUpai vunnA@mDu
2.aMdarilO saMtaryAmiyainaviSEshamu
kaMdarpu@mbuTTiMcina GanaviSEshamu
muMdu jagamusRshTiMci mUlamainaviSEshamu
yiMdaritO@m gUDukoni yIrUpai vunnA@mDu
3.paramu(ma?)yOgIMdrulella BAviMcinaviSEshamu
arudaina vEdavEdAMtArthaviSEshamu
paraga nalamElmaMgapatiyai SrIvEMkaTESu@m-
Diravai dAsula@m gAva nIrUpai vunnADu
.

We will update this page , once we find comprehensive meaning. Feel free to contribute if you know.
.