Composer: Sri Tallapaka Annamacharya (Annamayya అన్నమయ్య) , May 9, 1408 – February 23, 1503 was born to Narayana Suri and Lakkamamba in Tallapaka, a village in current day Kadapa district of Andhra Pradesh. More….
Keerthana No. 155
Copper Sheet No. 27
Pallavi: Dikkuleka Poyenitte (దిక్కులేక పోయెనిట్టే)
Ragam: Aahiri
Language: Telugu (తెలుగు)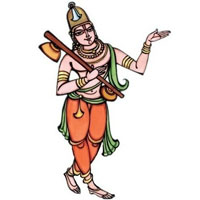 Recitals
Awaiting Contributions.
…
Awaiting Contributions.
[audio: audio-instrumental-file-name.mp3].
This Kriti was originally composed in Telugu. Other languages are for your convenience.
పల్లవి
దిక్కులేక పోయెనిట్టే దినదినము
వెక్కసపు లోకమేలే విభుఁడెవ్వాఁడో
చరణములు
1.గుత్తముగా నెల్లవారుఁ గుడిచేటి కంచము
ఎత్తుక లోఁబెట్టుకొనె నెవ్వఁడో దొంగ
కొట్టగానే యింతి గట్టేకోక బయట వేసిన
మెత్తనిదంటాఁ బట్టి మింగె నెవ్వఁడో
2.బంతిగాఁగ నెల్లవారుఁ బండేటి మంచమూర-
గుంతలో విరుగఁదోసె కూళఁడెవ్వఁడో
దొంతుల కడవలోనఁ దొరలి దాఁచిన పెద్ద-
పొంతకూటికుండ గొంటఁబోయె నెవ్వఁడో
3.లొరిది సంతలలోని సుద్దులెల్లా విని విని
విరసములెల్లఁ బాపె వీఁడెవ్వఁడో
తిరువేంకటగిరిదేవుఁడై యిందరికిఁ
గరుణ లోకముగాచె ఘనుఁడెవ్వఁడో.
.
Pallavi
dikkulEka pOyeniTTE dinadinamu
vekkasapu lOkamElE vibhu@mDevvaa@mDO
Charanams
1.guttamugA nellavAru@m guDicETi kamcamu
ettuka lO@mbeTTukone nevva@mDO domga
koTTagAnE yimti gaTTEkOka bayaTa vEsina
mettanidamTA@m baTTi mimge nevva@mDO
2.bamtigA@mga nellavAru@m bamDETi mamcamUra-
gumtalO viruga@mdOse kULa@mDevva@mDO
domtula kaDavalOna@m dorali dA@mcina pedda-
pomtakUTikumDa gomTa@mbOye nevva@mDO
3.loridi samtalalOni suddulellA vini vini
virasamulella@m bApe vI@mDevva@mDO
tiruvEmkaTagiridEvu@mDai yimdariki@m
garuNa lOkamugAce ghanu@mDevva@mDO.
.

We will update this page , once we find comprehensive meaning. Feel free to contribute if you know.
.