Composer: Sri Tallapaka Annamacharya (Annamayya అన్నమయ్య) , May 9, 1408 – February 23, 1503 was born to Narayana Suri and Lakkamamba in Tallapaka, a village in current day Kadapa district of Andhra Pradesh. More….
Keerthana No.129
Copper Sheet No. 322
Pallavi:Divamata rarirata (దేదివమట రారిరట)
Ragam: Samantham
Language: Telugu (తెలుగు)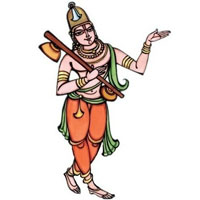 Recitals
Awaiting Contributions.
…
Awaiting Contributions.
[audio: audio-instrumental-file-name.mp3].
This Kriti was originally composed in Telugu. Other languages are for your convenience.
పల్లవి
దివమట రారిరట తీరుచున్నదా
కవగూడఁ బాయఁ గాక కాణాచి వున్నడా
చరణములు
1.మానుషజన్మమట మలమూత్రదేహమట
సోనల హేయమేకాక సుద్ది వున్నదా
మాననికోరికలట మాయలసంసారమట
దీనవృత్తేకాక యిందుఁ దేజమున్నదా
2.చంచలపుఁజిత్తమట సకలేంద్రియములట
పొంచిన పాపమేకాక పుణ్యమున్నదా
సంచితపుఁగర్మమట జనన లయములట
మంచినతీదీపేకాక మోదమున్నదా
3.శ్రీవేకటేశుఁడట జీవుఁడనేనట యిందు
దైవపుదాస్యమే కా కితరమన్నదా
యీవలనావలనట యిహముఁబరమునట
కైవశములాయఁగాక కడమున్నదా
.
Pallavi
divamaTa rAriraTa tIrucunnadA
kavagUDa@m bAya@m gAka kANAci vunnaDA
Charanams
1.mAnushajanmamaTa malamUtradEhamaTa
sOnala hEyamEkAka suddi vunnadA
mAnanikOrikalaTa mAyalasaMsAramaTa
dInavRttEkAka yiMdu@m dEjamunnadA
2.caMcalapu@mjittamaTa sakalEMdriyamulaTa
poMcina pApamEkAka puNyamunnadA
saMcitapu@mgarmamaTa janana layamulaTa
maMcinatIdIpEkAka mOdamunnadA
3.SrIvEkaTESu@mDaTa jIvu@mDanEnaTa yiMdu
daivapudAsyamE kA kitaramannadA
yIvalanAvalanaTa yihamu@mbaramunaTa
kaivaSamulAya@mgAka kaDamunnadA
.

We will update this page , once we find comprehensive meaning. Feel free to contribute if you know.
.