Composer: Sri Tallapaka Annamacharya (Annamayya అన్నమయ్య) , May 9, 1408 – February 23, 1503 was born to Narayana Suri and Lakkamamba in Tallapaka, a village in current day Kadapa district of Andhra Pradesh. More….
Keerthana No. 189
Copper Sheet No. 332
Pallavi: Dorato Samgatamu (దొరతో సంగాతము)
Ragam: Sankarabharanam
Language: Telugu (తెలుగు)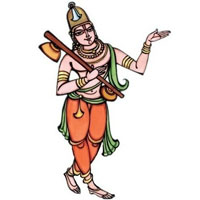 Recitals
Awaiting Contributions.
…
Awaiting Contributions.
[audio: audio-instrumental-file-name.mp3].
This Kriti was originally composed in Telugu. Other languages are for your convenience.
Pallavi
|| దొరతో సంగాతము దొరికిన పాటే చాలు | వొరసి మీరగ బోతే నొక్కరీతి నుండునా ||
Charanams
|| యేకతాన లోన నుండి యేలనన్ను బిలిచేవు | వాకిటికి రావయ్యా వలసితేను |
చేకొని యొకతె యుంటె సిగ్గువడి వెళ్ళి వచ్చి | కూకులు వత్తులుగాను కూళదాననా ||
|| మరగించి మరగున మాట లేలాడించేవు | తెఅదియ్యవయ్య అంత తీట గలిగితె |
వరుసకు వచ్చి నాపె వాదు నాతో బెట్టుకొంటె | విరసమై యూరకుండ వెఱ్ఱిదాననా ||
|| పట్టె మంచముపై నుండి పైగాలు చాచనేల | యిట్టె వుర మెక్కవయ్య యింత గలిగె |
జట్టిగా శ్రీ వేంకటేశ సరినొకతె గూచుంటె | వట్టి యితవు సేసుకో వాసిలేని దాననా ||
.
Pallavi
|| doratO saMgAtamu dorikina pATE cAlu | vorasi mIraga bOtE nokkarIti nuMDunA ||
Charanams
|| yEkatAna lOna nuMDi yElanannu bilicEvu | vAkiTiki rAvayyA valasitEnu |
cEkoni yokate yuMTe sigguvaDi veLLi vacci | kUkulu vattulugAnu kULadAnanA ||
|| maragiMci maraguna mATa lElADiMcEvu | teadiyyavayya aMta tITa galigite |
varusaku vacci nApe vAdu nAtO beTTukoMTe | virasamai yUrakuMDa verxrxidAnanA ||
|| paTTe maMcamupai nuMDi paigAlu cAcanEla | yiTTe vura mekkavayya yiMta galige |
jaTTigA SrI vEMkaTESa sarinokate gUcuMTe | vaTTi yitavu sEsukO vAsilEni dAnanA ||
.

We will update this page , once we find comprehensive meaning. Feel free to contribute if you know.
.