Composer: Sri Tallapaka Annamacharya (Annamayya అన్నమయ్య) , May 9, 1408 – February 23, 1503 was born to Narayana Suri and Lakkamamba in Tallapaka, a village in current day Kadapa district of Andhra Pradesh. More….
Keerthana No. 2
Copper Sheet No. 201
Pallavi: Edi nijabani (ఏది నిజబని)
Ragam: Bauli
Language: Telugu (తెలుగు)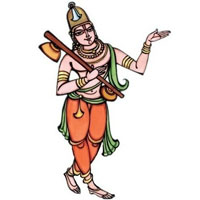 Recitals
Awaiting Contributions.
…
Awaiting Contributions.
[audio: audio-instrumental-file-name.mp3].
This Kriti was originally composed in Telugu. Other languages are for your convenience.
పల్లవి
ఏది నిజబని యెతువల్లె నమ్ముదు
పొదితోద నను బొదింపవె
చరణములు
1.సత్తు నస త్తని సర్వము నీవని
చిత్తమమధ్యమ మొగిగలదని మరి
పుత్తమమధ్యమ మొగిగలదని మరి
యీత్తల శాస్త్రము లేర్పరచీని || ఏది ||
2.నానారూపులు నరహరి నీవని
పూనినవిధు లిటు పొగడెడిని
మానక హేయము మరి వుపాధేయము
కానవచ్చి యిల గలిగియున్నవి || ఏది ||
3.ఖావాఖావము పరమము నీవని
దైవఙ్ఞ్లులు నిను దలచెదరు
శ్రీవెంకటగిరి జెలగిననీవే
టావున మదిలొ దగిలితివి || ఏది ||
.
Pallavi
Edi nijabani yetuvalle nammudu
poditOda nanu bodimpave
Charanams
1.sattu nasa ttani sarvamu nIvani
chittamamadhyama mogigaladani mari
puttamamadhyama mogigaladani mari
yIttala SAstramu lErparachIni || Edi ||
2.nAnArUpulu narahari nIvani
pUninavidhu liTu pogaDeDini
mAnaka hEyamu mari vupAdhEyamu
kAnavachchi yila galigiyunnavi || Edi ||
3.KAvAKAvamu paramamu nIvani
daiva~m~nlulu ninu dalachedaru
SrIvEMkaTagiri jelaginanIvE
TAvuna madilo dagilitivi || Edi ||
.

We will update this page , once we find comprehensive meaning. Feel free to contribute if you know.
.