Ustad Ghulam Ali (Urdu: غلام علی, Hindi: ग़ुलाम अली (born 1940) is a Pakistani ghazal singer of the Patiala gharana. He is not to be confused with the Indian singer Bade Ghulam Ali Khan (of whom he was a disciple) or Chhote Ghulam Ali, who is another Pakistani singer in the Qual Bachon Gharana More..
Category: Ghazals


Writer / Author: Ustad Ghulam Ali (غلام علی)


Language: Urdu (اردو)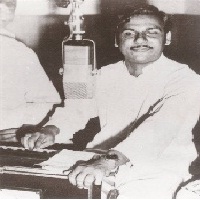 Recitals
Ek Lamha Maykade | ایک لمحہ میکدے
Album:Private | Voice: U.Ghulam Ali

Awaiting Contributions.
This Ghazal was originally composed in Urdu. Other languages are for your convenience.
ایک لمحہ میکدے میں جو ہم لوگ آ گئے
کچھ بات چیت کر گئے کٹچ ہنس ہنس گئے
اب اسمیں اپنی صراط ا رانا نہ دیکھئے
اب دل کے آئنے میں کہی بار آ گئے
دم لے کے ایک لمحہ چلے جاینگے فقیر
سنکے تمھارے کولڈ کی تعریف آ گئے
کتنے حسین لوگ تھے جو مل کے ایک بار
آنکھوں میں جذب ہو گئے دل میں سما گئے
.
Awaiting Contribution..
.
ek lamha maykade mein jo ham log aa gaye
kuch baat-cheet kar gaye kutch hans-hans gaye
ab isamein apni surat-e-raana na dekhiye
ab dil ke aaine mein kahi baar aa gaye
dam le ke ek lamha chale jaayenge faqeer
sunke tumhaare kuld ki taareef aa gaye
kitne haseen log the jo mil ke ek baar
aankhon mein jazb ho gaye dil mein sama gaye
.