Composer: Sri Tallapaka Annamacharya (Annamayya అన్నమయ్య) , May 9, 1408 – February 23, 1503 was born to Narayana Suri and Lakkamamba in Tallapaka, a village in current day Kadapa district of Andhra Pradesh. More….
Keerthana No. 4
Copper Sheet No. 201
Pallavi: Ekkada chuchina Vire (ఎక్కడ చూచిన వీరే)
Ragam: Desalam
Language: Telugu (తెలుగు)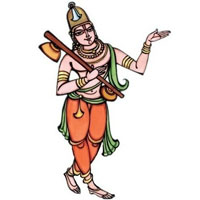 Recitals
Awaiting Contributions.
…
Awaiting Contributions.
[audio: audio-instrumental-file-name.mp3].
This Kriti was originally composed in Telugu. Other languages are for your convenience.
Pallavi
|| ఎక్కడ చూచిన వీరే యింటింటముంగిటను | పెక్కుచేతలు సేసేరు పిలువరే బాలుల ||
Charanams
|| పిన్నవాడు కౄష్ణుడు పెద్దవాడు రాముడు | వన్నె నిద్ద రమడలవలె నున్నారు |
వెన్నలు దొంగిలుదురు వీడువాడు నొక్కటే | పన్నుగడై వచ్చినారు పట్టరే యీ బాలుల ||
|| నల్లనివాడు కౄష్ణుడు తెల్లనివాడు రాముడు | అల్లదివో జోడుకోడెలై వున్నారు |
వెల్లసిరై తిరిగేరు వేరు లేదిద్దరికిని | పెల్లుగ యశోద వద్ద బెట్టరే యీబాలుల ||
|| రోల జిక్కె నొకడు రోకలి వట్టె నొకడు | పోలిక సరి బేసికి బొంచి వున్నారు |
మేలిమి శ్రీ వేంకటద్రి మించిరి తానే తావై | ఆలించి నెవ్వరి నేమి ననకురే బాలుల ||
.
Pallavi
|| ekkaDa cUcina vIrE yiMTiMTamuMgiTanu | pekkucEtalu sEsEru piluvarE bAlula ||
Charanams
|| pinnavADu kRuShNuDu peddavADu rAmuDu | vanne nidda ramaDalavale nunnAru |
vennalu doMgiluduru vIDuvADu nokkaTE | pannugaDai vaccinAru paTTarE yI bAlula ||
|| nallanivADu kRuShNuDu tellanivADu rAmuDu | alladivO jODukODelai vunnAru |
vellasirai tirigEru vEru lEdiddarikini | pelluga yaSOda vadda beTTarE yIbAlula ||
|| rOla jikke nokaDu rOkali vaTTe nokaDu | pOlika sari bEsiki boMci vunnAru |
mElimi SrI vEMkaTadri miMciri tAnE tAvai | AliMci nevvari nEmi nanakurE bAlula ||
.

We will update this page , once we find comprehensive meaning. Feel free to contribute if you know.
.