Composer: Sri Tallapaka Annamacharya (Annamayya అన్నమయ్య) , May 9, 1408 – February 23, 1503 was born to Narayana Suri and Lakkamamba in Tallapaka, a village in current day Kadapa district of Andhra Pradesh. More….
Keerthana No. 85; Volume No.4
Copper Sheet No. 315
Pallavi:Ekkada neduru leka (ఎక్కడ నెదురు లేక)
Ragam: Saalanganaata
Language: Telugu (తెలుగు)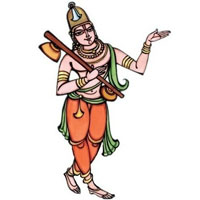 Recitals
Awaiting Contributions.
…
Awaiting Contributions.
[audio: audio-instrumental-file-name.mp3].
This Kriti was originally composed in Telugu. Other languages are for your convenience.
పల్లవి
ఎక్కడ నెదురు లేక యీరేడులోకములందు
వొక్కఁడేనిలిచెనమ్మ వుగ్రహనుమంతుఁడు
చరణములు
1.పెట్టినజంగదండ పిడికిటిమొలచేయి
అట్టె వలచేయెత్తినయాయితము
తొట్టిన పెంజెమటలు తోడనె బుసకొట్టులు
వుట్టిపడేఁ జూదరమ్మ వుగ్రహనుమంతుఁడు
2.నిక్కినకర్ణములు నింగిమోఁచినబొమ్మలు
చక్కశిరసుపైఁ బారఁజూచినతోఁక
చుక్కలౌ మొలపూసలు సూదులవాఁడిరొమాలు
వుక్కుమీరెఁ జూడరమ్మ వుగ్రహనుమంతుఁడు
3.పుట్టుఁగౌపీనము మహాద్భుతయజ్ఞోపవీతము
గుట్టుచూపనికనకకుండలములు
పట్టపు శ్రీవేంకటేశుబంటయి ప్రతాపమెల్ల
వొట్టీ విజనగస్రపు వుగ్రహనుమంతుఁడు
.
Pallavi
ekkaDa neduru lEka yIrEDulOkamulandu
vokka@mDEnilicenamma vugrahanumantu@mDu
Charanams
1.peTTinajangadanDa piDikiTimolacEyi
aTTe valacEyettinayAyitamu
toTTina penjemaTalu tODane busakoTTulu
vuTTipaDE@m jUdaramma vugrahanumantu@mDu
2.nikkinakarNamulu nimgimO@mcinabommalu
cakkaSirasupai@m bAra@mjUcinatO@mka
cukkalau molapUsalu sUdulavA@mDiromAlu
vukkumIre@m jUDaramma vugrahanumantu@mDu
3.puTTu@mgoupInamu mahAdButayaj~nOpavItamu
guTTucUpanikanakakunDalamulu
paTTapu SrIvEnkaTESubanTayi pratApamella
voTTI vijanagasrapu vugrahanumantu@mDu
.

We will update this page , once we find comprehensive meaning. Feel free to contribute if you know.
.