Composer: Sri Tallapaka Annamacharya (Annamayya అన్నమయ్య) , May 9, 1408 – February 23, 1503 was born to Narayana Suri and Lakkamamba in Tallapaka, a village in current day Kadapa district of Andhra Pradesh. More….
Keerthana No. 38
Copper Sheet No. 07
Pallavi: Ekkadi manusha (ఎక్కడి మానుష)
Ragam: Bouli
Language: Telugu (తెలుగు)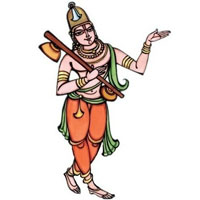 Recitals
Awaiting Contributions.
…
Awaiting Contributions.
[audio: audio-instrumental-file-name.mp3].
This Kriti was originally composed in Telugu. Other languages are for your convenience.
Pallavi
|| ఎక్కడి మానుష జన్మం బెత్తిన ఫలమే మున్నది | నిక్కము నిన్నే నమ్మితి నీ చిత్తంబికను ||
Caranams
|| మరవను ఆహారంబును మరవను సంసార సుఖము | మరవను యింద్రియ భోగము మాధవ నీ మాయ |
మరచెద సుజ్ఞానంబును మరచెద తత్త్వ రహస్యము | మరచెద గురువును దైవము మాధవ నీ మాయ ||
|| విడువను పాపము పుణ్యము విడువను నా దుర్గుణములు | విడువను మిక్కిలి యాసలు విష్ణుడ నీమాయ |
విడిచెద షట్కర్మంబులు విడిచెద వైరాగ్యంబును | విడిచెద నాచారంబును విష్ణుడ నీమాయ ||
|| తగిలెద బహు లంపటముల తగిలెద బహు బంధముల | తగులను మోక్షపు మార్గము తలపున యెంతైనా |
అగపడి శ్రీ వేంకటేశ్వర అంతర్యామివై | నగి నగి నను నీవేలితి నాకా యీమాయ ||
.
Pallavi
|| ekkaDi mAnuSha janmaM bettina PalamE munnadi | nikkamu ninnE nammiti nI cittaMbikanu ||
Charanams
|| maravanu AhAraMbunu maravanu saMsAra suKamu | maravanu yiMdriya BOgamu mAdhava nI mAya |
maraceda j~jAnaMbunu maraceda tattva rahaSyamu | maraceda guruvunu daivamu mAdhava nI mAya ||
|| viDuvanu pApamu puNyamu viDuvanu nA durguNamulu | viDuvanu mikkili yAsalu viShNuDa nImAya |
viDiceda ShaTkarmaMbulu viDiceda vairAgyaMbunu | viDiceda nAcAraMbunu viShNuDa nImAya ||
|| tagileda bahu laMpaTamula tagileda bahu baMdhamula | tagulanu mOkShapu mArgamu talapuna yeMtainA |
agapaDi SrI vEMkaTESvara aMtaryAmivai | nagi nagi nanu nIvEliti nAkA yImAya ||
.

We will update this page , once we find comprehensive meaning. Feel free to contribute if you know.
.