Composer: Sri Tallapaka Annamacharya (Annamayya అన్నమయ్య) , May 9, 1408 – February 23, 1503 was born to Narayana Suri and Lakkamamba in Tallapaka, a village in current day Kadapa district of Andhra Pradesh. More….
Keerthana No. 12
Copper Sheet No. 202
Pallavi: Ekkadi narakamu (ఎక్కడి నరకము)
Ragam: Salanga nata
Language: Telugu (తెలుగు)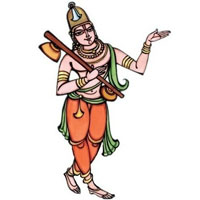 Recitals
Awaiting Contributions.
…
Awaiting Contributions.
[audio: audio-instrumental-file-name.mp3].
This Kriti was originally composed in Telugu. Other languages are for your convenience.
Pallavi
|| ఎక్కడి నరకము ఎక్కడిమృత్యువు మాకు | దక్కి నీదివ్య నామామృతము చూరగొంటిమి ||
Charanams
|| తమితో శ్రీపతి దాసుల చేరినప్పుడే | యమ కింకర భయము లణగి పోయె |
జమళి నీ యాయుధ లాంఛనము మోచినప్పుడే | అమర కాలదండము లవియెల్ల బొలిసె ||
|| మును నీ నగరిత్రోవ మొగమైన యప్పుడే | ఘన యామ్య మార్గము కట్టువడియె |
ఒనర నీ తిరుపతి నొకరాత్రి వున్నపుడే | కనలు కాలసూత్రాది ఘాతలెల్ల పూడె ||
|| యెడరై నీమంత్రజపము యెంచుకొన్న యపుడే | కడు చిత్రగుప్తుని లెక్కలుగ చే- |
వడిగా వేంకటేశ్వర మీశరణమనగ | అడరి వైకుంఠము మా యరచేత నిలిచె||
.
Pallavi
|| ekkaDi narakamu ekkaDimRutyuvu mAku | dakki nIdivya nAmAmRutamu cUragoMTimi ||
Charanams
|| tamitO SrIpati dAsula cErinappuDE | yama kiMkara Bayamu laNagi pOye |
jamaLi nI yAyudha lAMCanamu mOcinappuDE | amara kAladaMDamu laviyella bolise ||
|| munu nI nagaritrOva mogamaina yappuDE | Gana yAmya mArgamu kaTTuvaDiye |
onara nI tirupati nokarAtri vunnapuDE | kanalu kAlasUtrAdi GAtalella pUDe ||
|| yeDarai nImaMtrajapamu yeMcukonna yapuDE | kaDu citraguptuni lekkaluga cE- |
vaDigA vEMkaTESvara mISaraNamanaga | aDari vaikuMThamu mA yaracEta nilice||
.

We will update this page , once we find comprehensive meaning. Feel free to contribute if you know.
.