Composer: Sri Tallapaka Annamacharya (Annamayya అన్నమయ్య) , May 9, 1408 – February 23, 1503 was born to Narayana Suri and Lakkamamba in Tallapaka, a village in current day Kadapa district of Andhra Pradesh. More….
Keerthana No.277
Copper Sheet No. 336
Pallavi:Emani Vinnavimcene (ఏమని విన్నవించేనే)
Ragam: Bhoopalam
Language: Telugu (తెలుగు)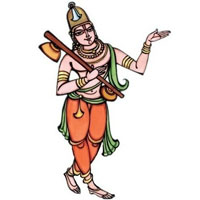 Recitals
Awaiting Contributions.
…
Awaiting Contributions.
[audio: audio-instrumental-file-name.mp3].
This Kriti was originally composed in Telugu. Other languages are for your convenience.
Pallavi
|| ఏమని విన్నవించేనే యిక దనతో నేను | సేమాన వచ్చెగా నన్ను జిత్తగింపు మనవే ||
Charanams
|| మక్కువ దనపై నా మతి తలపోతలకు | చెక్కుపై నిడుకొన్న నాచెయ్యే సాక్షి |
అక్కరతో విరహపు టసు రుసుములకును | ముక్కున బెట్టిన నా ముత్తెమే సాక్షి ||
|| తన్ను బాసి నిద్రలేక తగవేగించి నందుకు | కన్నుల నుండిన యట్టి కాటులే సాక్షి |
వున్నతపు గోరికల నుమ్మగిలినందుకు | పన్నీటి చెమటల పయ్యదే సాక్షి ||
|| నిబ్బరపు బరపుపై నే బొరలాడినందుకు | గుబ్బల గంధపు బేంట్లగురుతు లే సాక్షి |
పబ్బి యలమేల్మంగపతి శ్రీ వేంకటేశుడు | అబ్బురాన నన్నుగూడే యానందమే సాక్షి ||
.
Pallavi
|| Emani vinnaviMcEnE yika danatO nEnu | sEmAna vaccegA nannu jittagiMpu manavE ||
Charanams
|| makkuva danapai nA mati talapOtalaku | cekkupai niDukonna nAceyyE sAkShi |
akkaratO virahapu Tasu rusumulakunu | mukkuna beTTina nA muttemE sAkShi ||
|| tannu bAsi nidralEka tagavEgiMci naMduku | kannula nuMDina yaTTi kATulE sAkShi |
vunnatapu gOrikala nummagilinaMduku | pannITi cemaTala payyadE sAkShi ||
|| nibbarapu barapupai nE boralADinaMduku | gubbala gaMdhapu bEMTlagurutu lE sAkShi |
pabbi yalamElmaMgapati SrI vEMkaTESuDu | abburAna nannugUDE yAnaMdamE sAkShi ||
.

We will update this page , once we find comprehensive meaning. Feel free to contribute if you know.
.