Composer: Sri Tallapaka Annamacharya (Annamayya అన్నమయ్య) , May 9, 1408 – February 23, 1503 was born to Narayana Suri and Lakkamamba in Tallapaka, a village in current day Kadapa district of Andhra Pradesh. More….
Keerthana No.63
Copper Sheet No. 311
Pallavi:Emi seyuvada nivi (ఏమి సేయువాడ నివి )
Ragam: siddavasantam
Language: Telugu (తెలుగు)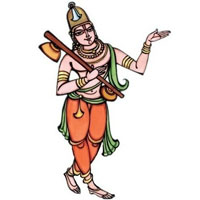 Recitals
Awaiting Contributions.
…
Awaiting Contributions.
[audio: audio-instrumental-file-name.mp3].
This Kriti was originally composed in Telugu. Other languages are for your convenience.
పల్లవి
ఏమి సేయువాడ నివి విరసమొకటొకటి
తామసంబొకవంక తత్వమొకవంక
చరణములు
1.యితరోపాయరాహిత్యుండు గాడేని
అతిశయంబగు మోక్ష మది యబ్బదు
సతతోద్యోగానుచరితుండు గాడేని
వితతసంసారసుఖవిధి నడవదు
2.వివిధేంద్రియ విషయవిముఖుడు గాడేని
యివల వైష్ణవధర్మమిది యబ్బదు
అవిరళంబగు దేహానుసరణములేక
భవమాత్రమున సుకృతఫలమబ్బదు
3.పరమానందసంపన్నుండు గాడేని
చరమవిజ్ఞాననిశ్చలుడు గాడు
యిరవయిన శ్రీవేంకటేశ యితువలె నీవు
కరుణించుకున్న దుర్గతులచే భ్రమసీ
.
Pallavi
Emi sEyuvADa nivi virasamokaTokaTi
tAmasaMbokavaMka tatvamokavaMka
Charanams
1.yitarOpAyarAhityuMDu gADEni
atiSayaMbagu mOxa madi yabbadu
satatOdyOgAnucarituMDu gADEni
vitatasaMsArasuKavidhi naDavadu
2.vividhEMdriya vishayavimuKuDu gADEni
yivala vaishNavadharmamidi yabbadu
aviraLaMbagu dEhAnusaraNamulEka
BavamAtramuna sukRtaPalamabbadu
3.paramAnaMdasaMpannuMDu gADEni
caramavij~nAnaniScaluDu gADu
yiravayina SrIvEMkaTESa yituvale nIvu
karuNiMcukunna durgatulacE BramasI
.

We will update this page , once we find comprehensive meaning. Feel free to contribute if you know.
.