Composer: Sri Tallapaka Annamacharya (Annamayya అన్నమయ్య) , May 9, 1408 – February 23, 1503 was born to Narayana Suri and Lakkamamba in Tallapaka, a village in current day Kadapa district of Andhra Pradesh. More….
Keerthana No. 391
Copper Sheet No. 857
Pallavi: Emisetu Nammalala Yidivo (ఏమిసేతు నమ్మలాల యిదివో)
Ragam: Kambhodi
Language: Telugu (తెలుగు)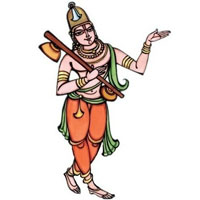 Recitals
Awaiting Contributions.
…
Awaiting Contributions.
[audio: audio-instrumental-file-name.mp3].
This Kriti was originally composed in Telugu. Other languages are for your convenience.
Pallavi
|| ఏమిసేతు నమ్మలాల యిదివో నాకాపిరము | కామించి వలపు పతి కౌగిలే కోరీనీ |
Charanams
|| కాయమే కాకల బొందీ గాసీ రమణుని బాసి | పాయమే చిగురించీ బైపైనే |
చేయి చెక్కిటి మీద జింతలు రేచీగానీ | యేయెడ గను చూపులు యెదురే చూచీని ||
|| పని పూని పయ్యదే పైపై జారీగానీ | ఘనమైన చన్నులైతే గట్టులయ్యీనీ |
గొన కొన్న విరహము కోపము పుట్టించీగానీ | ననుపుల సెలవులు నవ్వింపించీని ||
|| గారవపు నాకౌగిలి కారాలు పుట్టించీగానీ | వూరేటిమోవి తేనెలు వుట్టిపడీనీ |
యీరీతి శ్రీవేంకటేశు డింతలో నన్ను గలసె | తేరేటి మోము కళలు తెలివిసేసీని ||
.
Pallavi
|| EmisEtu nammalAla yidivO nAkApiramu | kAmiMci valapu pati kaugilE kOrInI |
Charanams
|| kAyamE kAkala boMdI gAsI ramaNuni bAsi | pAyamE ciguriMcI baipainE |
cEyi cekkiTi mIda jiMtalu rEcIgAnI | yEyeDa ganu cUpulu yedurE cUcIni ||
|| pani pUni payyadE paipai jArIgAnI | Ganamaina cannulaitE gaTTulayyInI |
gona konna virahamu kOpamu puTTiMcIgAnI | nanupula selavulu navviMpiMcIni ||
|| gAravapu nAkaugili kArAlu puTTiMcIgAnI | vUrETimOvi tEnelu vuTTipaDInI |
yIrIti SrIvEMkaTESu DiMtalO nannu galase | tErETi mOmu kaLalu telivisEsIni ||
.

We will update this page , once we find comprehensive meaning. Feel free to contribute if you know.
.