Composer: Sri Tallapaka Annamacharya (Annamayya అన్నమయ్య) , May 9, 1408 – February 23, 1503 was born to Narayana Suri and Lakkamamba in Tallapaka, a village in current day Kadapa district of Andhra Pradesh. More….
Keerthana No. 223
Copper Sheet No. 438
Pallavi: Emisetu Nammalala (ఏమిసేతు నమ్మలాల)
Ragam: Sankarabharanam
Language: Telugu (తెలుగు)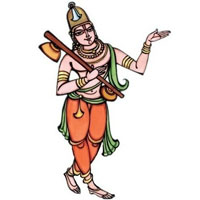 Recitals
Awaiting Contributions.
…
Awaiting Contributions.
[audio: audio-instrumental-file-name.mp3].
This Kriti was originally composed in Telugu. Other languages are for your convenience.
Pallavi
ఏమిసేతు నమ్మలాల యెందుకౌను నాయకుడు
భూమిలో జెప్ప గొత్త యీ పురుష విరహము ||
Charanams
1.తొయ్యలి రాకకు బతి తొంగిచూడ బోతేను
దయ్యమువలె జంద్రుడు తలచూపెను
చయ్యన నందు కతడు జడసి తలవంతే
నుయ్యివలెనే తోచె నూలుకొని మనసు ||
2.మగువ యెలుగు విన మతి నాలకించితేను
పగవాని వలనే పల్కెగోవిల
వెగటై యందు కతడు వీనులు మూసుకొంటే
మొగులు వలెనే కప్ప ముంచుక విరహము ||
3.నలినాక్షి రూపు మనసున దలచబోతే
చిలుకుగాలమై తోచెనుమరుడు
అలసె శ్రీవేంకటేశుడంతలోన సతిగూడె
నెలకొని కొండవలె నిలిచె సంతోసము ||
.
Pallavi
EmisEtu nammalAla yeMdukounu nAyakuDu
bhUmilO jeppa gotta yI puruSha virahamu ||
Charanams
1.toyyali rAkaku bati toMgichUDa bOtEnu
dayyamuvale jaMdruDu talachUpenu
chayyana naMdu kataDu jaDasi talavaMtE
nuyyivalenE tOche nUlukoni manasu ||
2.maguva yelugu vina mati nAlakiMchitEnu
pagavAni valanE palkegOvila
vegaTai yaMdu kataDu vInulu mUsukoMTE
mogulu valenE kappa muMchuka virahamu ||
3.nalinAkShi rUpu manasuna dalachabOtE
chilukugAlamai tOchenumaruDu
alase SrIvEMkaTESuDaMtalOna satigUDe
nelakoni koMDavale niliche saMtOsamu ||
.

We will update this page , once we find comprehensive meaning. Feel free to contribute if you know.
.