Composer: Sri Tallapaka Annamacharya (Annamayya అన్నమయ్య) , May 9, 1408 – February 23, 1503 was born to Narayana Suri and Lakkamamba in Tallapaka, a village in current day Kadapa district of Andhra Pradesh. More….
Keerthana No. 99
Copper Sheet No. 16
Pallavi: Enanayanalachupu (ఏణనయనలచూపు)
Ragam: Narani
Language: Telugu (తెలుగు)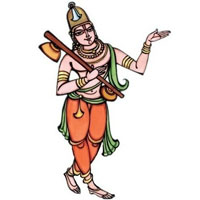 Recitals
Awaiting Contributions.
…
Awaiting Contributions.
[audio: audio-instrumental-file-name.mp3].
This Kriti was originally composed in Telugu. Other languages are for your convenience.
Pallavi
ఏణనయనలచూపు లెంత సొబగైయుండు
ప్రాణసంకటములగుపనులు నట్లుండు ||
Charanams
1.ఎడలేనిపరితాప మేరీతి దా నుండు
అడియాసకోరికెలు నటువలెనె యుండు
కడలేనిదు:ఖసంగతి యెట్ల దానుండు
అడరుసంసారంబు నట్లనే వుండు ||
2.చింతాపరంపరల జిత్తమది యెట్లుండు
వంత దొలగనిమొహవశము నట్లుండు
మంతనపుబనులపయి మనసు మరి యెట్లుండు
కంతుశరమార్గములగతి యట్ల నుండు ||
3.దేవుడొక్క డెయనెడి తెలివి దన కెట్లుండు
శ్రీవేంకటేశుక్రుపచేత లట్లుండు
భావగోచరమైనపరిణ తది యెట్లుండు
కైవల్యసొఊఖ్యసంగతులు నట్లుండు ||
.
Pallavi
ENanayanalachUpu leMta sobagaiyuMDu
prANasaMkaTamulagupanulu naTluMDu ||
Charanams
1.eDalEniparitApa mErIti dA nuMDu
aDiyAsakOrikelu naTuvalene yuMDu
kaDalEnidu:khasaMgati yeTla dAnuMDu
aDarusaMsAraMbu naTlanE vuMDu ||
2.chiMtAparaMparala jittamadi yeTluMDu
vaMta dolaganimohavaSamu naTluMDu
maMtanapubanulapayi manasu mari yeTluMDu
kaMtuSaramArgamulagati yaTla nuMDu ||
3.dEvuDokka DeyaneDi telivi dana keTluMDu
SrIvEMkaTESukrupachEta laTluMDu
bhAvagOcharamainapariNa tadi yeTluMDu
kaivalyasoUkhyasaMgatulu naTluMDu ||
.

We will update this page , once we find comprehensive meaning. Feel free to contribute if you know.
.