Composer: Sri Tallapaka Annamacharya (Annamayya అన్నమయ్య) , May 9, 1408 – February 23, 1503 was born to Narayana Suri and Lakkamamba in Tallapaka, a village in current day Kadapa district of Andhra Pradesh. More….
Keerthana No. 482
Copper Sheet No. 96
Pallavi: Ennadu pakvamu ga (ఎన్నడు పక్వము గా)
Ragam: Malahari
Language: Telugu (తెలుగు)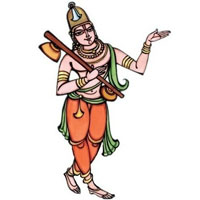 Recitals
Awaiting Contributions.
…
Awaiting Contributions.
[audio: audio-instrumental-file-name.mp3].
This Kriti was originally composed in Telugu. Other languages are for your convenience.
Pallavi
|| ఎన్నడు పక్వము గా దిదె యింద్రియభోగంబులచే | సన్నము దొడ్డును దోచీ సంసారఫలంబు ||
Charanams
|| తిత్తితో నూరేండ్లకును దేహము పండగబండగ | చిత్తంబెన్నడు పండక చిక్కెను కసుగాయై |
పొత్తులపుణ్యముబాపము పులుసును తీపై రసమున | సత్తు నసత్తును దోచీ సంసారఫలంబు ||
|| వెదవడి పుత్రులుపౌత్రులే విత్తులు లోలో మొలచియు | పొది గర్మపుపూ మారదు పూపిందెయిన దిదే |
తుదనిదె సుఖమును దుఃఖము తోలును గింజయు ముదురుక | చదురము వలయము తోచీ సంసారఫలంబు ||
|| వినుకలిచదువుల సదలో వేమరు మాగగ బెట్టిన | ఘనకర్మపుటొగ రుడుగదు కమ్మర పులిగాయై |
మనుమని శ్రీవేంకటేశుకు మహినాచార్యుడు కానుక | చనవున నియ్యగ వెలసెను సంసారఫలంబు ||
.
Pallavi
|| ennaDu pakvamu gA dide yiMdriyaBOgaMbulacE | sannamu doDDunu dOcI saMsAraPalaMbu ||
Charanams
|| tittitO nUrEMDlakunu dEhamu paMDagabaMDaga | cittaMbennaDu paMDaka cikkenu kasugAyai |
pottulapuNyamubApamu pulusunu tIpai rasamuna | sattu nasattunu dOcI saMsAraPalaMbu ||
|| vedavaDi putrulupautrulE vittulu lOlO molaciyu | podi garmapupU mAradu pUpiMdeyina didE |
tudanide suKamunu duHKamu tOlunu giMjayu muduruka | caduramu valayamu tOcI saMsAraPalaMbu ||
|| vinukalicaduvula sadalO vEmaru mAgaga beTTina | GanakarmapuToga ruDugadu kammara puligAyai |
manumani SrIvEMkaTESuku mahinAcAryuDu kAnuka | canavuna niyyaga velasenu saMsAraPalaMbu ||
.

We will update this page , once we find comprehensive meaning. Feel free to contribute if you know.
.