Composer: Sri Tallapaka Annamacharya (Annamayya అన్నమయ్య) , May 9, 1408 – February 23, 1503 was born to Narayana Suri and Lakkamamba in Tallapaka, a village in current day Kadapa district of Andhra Pradesh. More….
Keerthana No. 241
Copper Sheet No. 39
Pallavi: Amgadi Nevvaru (అంగడి నెవ్వరు)
Ragam: Sriragam
Language: Telugu (తెలుగు)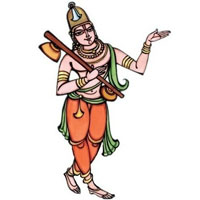 Recitals
Awaiting Contributions.
…
Awaiting Contributions.
[audio: audio-instrumental-file-name.mp3].
This Kriti was originally composed in Telugu. Other languages are for your convenience.
Pallavi
|| ఎన్ని మహిమల వాడే ఈ దేవుడు | కనుల పండువులెల్ల గదిసినట్లుండె ||
Charanams
|| పోలింపు కర్పూర కాపు పురుషోత్తమునికి | ఏలీల నుండె నని యెంచి చూచితే |
పాల జలధిలోన పవళింపగా మేన | మేలిమి మీగ డంటిన మెలుపుతో నుండె ||
|| తట్టు పునుగు కాపు దైవ శిఖామణికి | ఎట్టుండెనని మది నెంచి చూచితే |
చిట్టకాన రేపల్లెలో చీకటి తప్పు సేయగా | అట్టె రాత్రులు మేన నంటి నట్లుండె ||
|| అలమేలు మంగతో అట్టె సొమ్ము ధరించి | ఎలమి శ్రీ వేంకటేశు నెంచి చూచితే |
కలిమిగల ఈ కాంత కౌగిట పెనగగాను | నిలువెల్ల సిరులై నిండినట్లుండె ||
.
Pallavi
|| enni mahimala vADE I dEvuDu | kanula paMDuvulella gadisinaTluMDe ||
Charanams
|| pOliMpu karpUra kApu puruShOttamuniki | ElIla nuMDe nani yeMci cUcitE |
pAla jaladhilOna pavaLiMpagA mEna | mElimi mIga DaMTina meluputO nuMDe ||
|| taTTu punugu kApu daiva SiKAmaNiki | eTTuMDenani madi neMci cUcitE |
ciTTakAna rEpallelO cIkaTi tappu sEyagA | aTTe rAtrulu mEna naMTi naTluMDe ||
|| alamElu maMgatO aTTe sommu dhariMci | elami SrI vEMkaTESu neMci cUcitE |
kalimigala I kAMta kaugiTa penagagAnu | niluvella sirulai niMDinaTluMDe ||
.

We will update this page , once we find comprehensive meaning. Feel free to contribute if you know.
.