Composer: Sri Tallapaka Annamacharya (Annamayya అన్నమయ్య) , May 9, 1408 – February 23, 1503 was born to Narayana Suri and Lakkamamba in Tallapaka, a village in current day Kadapa district of Andhra Pradesh. More….
Keerthana No. 180
Copper Sheet No. 31
Pallavi: Enni Nesina (ఎన్ని నేసినా)
Ragam: Sudda Vasamtam
Language: Telugu (తెలుగు)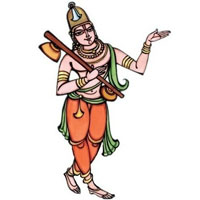 Recitals
Awaiting Contributions.
…
Awaiting Contributions.
[audio: audio-instrumental-file-name.mp3].
This Kriti was originally composed in Telugu. Other languages are for your convenience.
పల్లవి
ఎన్ని నేసినా నీకు నిది గొత్తలా
అన్నిటిలోపల నుండే అతఁడౌదో కావో
చరణములు
1.వొలఁతి మొయిఁదీగెపై పులకలు వొడమించే-
విల నిన్నుఁ దలఁపించి యిది గొత్తలా
తలకొన్న వేణునాదముననె వట్టిమాఁకు-
లలరఁ జేసినవాఁడవౌదువో కావో
2.గుట్టునఁ బయ్యెదకొంగు గుబ్బలనె జారించే-
విట్టె నీ ప్రేమనే యిఁతికిది గొత్తలా
మట్టుకొని వేణురవమున గొల్లెతల చీర-
లట్టు నిట్టు వదలించి నాతఁడౌదో కావో
3.కాంత కవుఁగిటను వేంకటగిరి విభుఁడా నీ-
వింత మేను మఱపించుటిది గొత్తలా
పంతమాడి యడవిలో పసుల నీరాగాల-
రంతులనే మఱపించే రాజవవుదో కావో.
.
Pallavi
enni nEsinA nIku nidi gottalA
anniTilOpala numDE ata@mDaudO kAvO
Charanams
1.vola@mti moyi@mdIgepai pulakalu voDamimcE-
vila ninnu@m dala@mpimci yidi gottalA
talakonna vENunAdamunane vaTTimA@mku-
lalara@m jEsinavA@mDavauduvO kAvO
2.guTTuna@m bayyedakomgu gubbalane jArimcE-
viTTe nI prEmanE yi@mtikidi gottalA
maTTukoni vENuravamuna golletala cIra-
laTTu niTTu vadalimci nAta@mDaudO kAvO
3.kAmta kavu@mgiTanu vEmkaTagiri viBu@mDA nI-
vimta mEnu ma~rapimcuTidi gottalA
pamtamADi yaDavilO pasula nIrAgAla-
ramtulanE ma~rapimcE rAjavavudO kAvO.
.

We will update this page , once we find comprehensive meaning. Feel free to contribute if you know.
.