Composer: Sri Tallapaka Annamacharya (Annamayya అన్నమయ్య) , May 9, 1408 – February 23, 1503 was born to Narayana Suri and Lakkamamba in Tallapaka, a village in current day Kadapa district of Andhra Pradesh. More….
Keerthana No. 70
Copper Sheet No. 112
Pallavi:Enta baapanaa soda (ఎంత బాఁపనా సోద)
Ragam: Bouli
Language: Telugu (తెలుగు)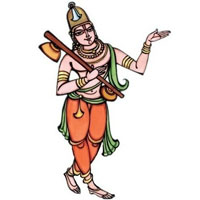 Recitals
Awaiting Contributions.
…
Awaiting Contributions.
[audio: audio-instrumental-file-name.mp3].
This Kriti was originally composed in Telugu. Other languages are for your convenience.
పల్లవి
ఎంత బాఁపనా సోద మింత గలదా
అంతయు నీమహిమే హరిభట్లూ
చరణములు
1.సూరిభ ట్లొకవంక చొరనిచోట్లు చొచ్చి
వారబియ్య మెత్తి యెత్తి వడదాఁకి
నీరువట్తుగొని భుమి నీళ్లెల్లా వారవట్టీ
కేరికేరి నగవయ్య క్రిష్ణభట్లూ
2.దేవరొజ్ఝ లొకవంక దిక్కులలోఁ బొలగూదు
దీవెనతొ నారగించి తీపుమరిగి
యీవలఁ బెట్టినవారి కేమైనా నొసఁగీని
వేవేలుమాయలవిష్ణుభట్లూ
3.సోమయాదు లొకవంక సొరిది సురలకెల్లా-
నామనితొ విందువెట్టీ ననుదినము
హోమపువిప్రులసొమ్ము లొడిసి తాఁ బుచ్చుకొనీ
వేమరు శ్రీవేంకటాద్రివెన్నుభట్లూ
.
Pallavi
enta bA@mpanA sOda mimta galadA
antayu nImahimE hariBaTlU
Charanams
1.sUriBa Tlokavanka coranicOTlu cocci
vArabiyya metti yetti vaDadA@mki
nIruvaTtugoni Bumi nILlellA vAravaTTI
kErikEri nagavayya krishNaBaTlU
2.dEvarojJa lokavamka dikkulalO@m bolagUdu
dIvenato nAragimci tIpumarigi
yIvala@m beTTinavAri kEmainA nosa@mgIni
vEvElumAyalavishNuBaTlU
3.sOmayAdu lokavamka soridi suralakellA-
nAmanito vinduveTTI nanudinamu
hOmapuviprulasommu loDisi tA@m buccukonI
vEmaru SrIvEmkaTAdrivennuBaTlU
.

We will update this page , once we find comprehensive meaning. Feel free to contribute if you know.
.