Composer: Sri Tallapaka Annamacharya (Annamayya అన్నమయ్య) , May 9, 1408 – February 23, 1503 was born to Narayana Suri and Lakkamamba in Tallapaka, a village in current day Kadapa district of Andhra Pradesh. More….
Keerthana No. 62
Copper Sheet No. 10
Pallavi: Enta cadivina nemi (ఎంత చదివిన నేమి)
Ragam: Samantham
Language: Telugu (తెలుగు)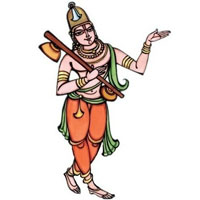 Recitals
Awaiting Contributions.
…
Awaiting Contributions.
[audio: audio-instrumental-file-name.mp3].
This Kriti was originally composed in Telugu. Other languages are for your convenience.
Pallavi
|| ఎంత చదివిన నేమి వినిన తన | చింత యేల మాను సిరులేల కలుగు ||
Charanams
|| ఇతర దూషణములు ఎడసిన గాక | అతి కాముకుడు గాని యప్పుడు గాక |
మతి చంచలము కొంత మానిన గాక |గతి యేల కలుగు దుర్గతులేల మాను ||
|| పర ధనముల యాస బాసిన గాక | అరిది నిందలు లేని యప్పుడు గాక |
విరస వర్తనము విడచిన గాక | పర మేల కలుగు నాపద లేల మాను ||
|| వేంకటపతి నాత్మ వెదికిన గాక | కింక మనసున తొలగిన గాక |
బొంకు మాటలెడసి పోయిన గాక | శంక యేల మాను జయమేల కలుగు ||
.
Pallavi
|| eMta cadivina nEmi vinina tana | ciMta yEla mAnu sirulEla kalugu ||
Charanams
|| itara dUShaNamulu eDasina gAka | ati kAmukuDu gAni yappuDu gAka |
mati caMcalamu koMta mAnina gAka |gati yEla kalugu durgatulEla mAnu ||
|| para dhanamula yAsa bAsina gAka | aridi niMdalu lEni yappuDu gAka |
virasa vartanamu viDacina gAka | para mEla kalugu nApada lEla mAnu ||
|| vEMkaTapati nAtma vedikina gAka | kiMka manasuna tolagina gAka |
boMku mATaleDasi pOyina gAka | SaMka yEla mAnu jayamEla kalugu ||
.

We will update this page , once we find comprehensive meaning. Feel free to contribute if you know.
.