Composer: Sri Tallapaka Annamacharya (Annamayya అన్నమయ్య) , May 9, 1408 – February 23, 1503 was born to Narayana Suri and Lakkamamba in Tallapaka, a village in current day Kadapa district of Andhra Pradesh. More….
Keerthana No. 144
Copper Sheet No. 26
Pallavi: Ettu Dharimpaganagu (ఎట్టు ధరింపఁగనగు)
Ragam: Saamantam
Language: Telugu (తెలుగు)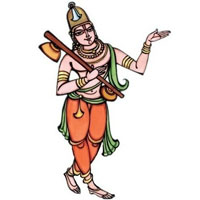 Recitals
Awaiting Contributions.
…
Awaiting Contributions.
[audio: audio-instrumental-file-name.mp3].
This Kriti was originally composed in Telugu. Other languages are for your convenience.
పల్లవి
ఎట్టు ధరింపఁగనగు భువినిట్టి వియోగావస్థల-
నట్టును నుట్టును విధి దమునారడిఁ బెట్టఁగను
చరణములు
1.కాంతునిచూపులఁ జిక్కినకాంత వియోగాగ్నికిఁ దగ
శాంతికిఁ జేంగలువలుపైఁ జల్లిరి నెచ్చెలులు
కాంతుఁడు చూచినతొల్లిటి కనుచూపులె బహుళములై
కాంతశరీరంబంతయుఁ గప్పిన తెఱఁగాయ
2.రమణునిమాటలఁ దగిలిన రమణికి నంగజతాపం-
బమరఁగ మకరందముపై నలికిరి నెచ్చెలులు
రమణుని తియ్యని మాటలరచనలె స్డునగ్గలమై
కమలదళాక్షికిఁ బై పై ఁ గట్టినతెఱఁగాయ
3.ప్రాణము సందియమై యీ పడతికిఁ బ్రాణము వచ్చెను
ప్రాణేశుఁడు తిరువేంకటపతి గరుణించినను
ఏణాక్షికి నొకతెకుఁ గాదీయఖిలంబున కీ దేవుఁదు
ప్రాణము ప్రాణంబనియెడి పలుకిది నిజమాయ
.
Pallavi
eTTu dharimpa@mganagu BuviniTTi viyOgAvasthala-
naTTunu nuTTunu vidhi damunAraDi@m beTTa@mganu
Charanams
1.kAmtunicUpula@m jikkinakAmta viyOgAgniki@m daga
SAmtiki@m jEmgaluvalupai@m jalliri neccelulu
kAmtu@mDu cUcinatolliTi kanucUpule bahuLamulai
kAmtaSarIrambamtayu@m gappina te~ra@mgAya
2.ramaNunimATala@m dagilina ramaNiki namgajatApam-
bamara@mga makaramdamupai nalikiri neccelulu
ramaNuni tiyyani mATalaracanale sDunaggalamai
kamaladaLAkshiki@m bai pai @m gaTTinate~ra@mgAya
3.prANamu samdiyamai yI paDatiki@m brANamu vaccenu
prANESu@mDu tiruvEmkaTapati garuNimcinanu
ENAkshiki nokateku@m gAdIyakhilambuna kI dEvu@mdu
prANamu prANambaniyeDi palukidi nijamAya
.

We will update this page , once we find comprehensive meaning. Feel free to contribute if you know.
.