Composer: Sri Tallapaka Annamacharya (Annamayya అన్నమయ్య) , May 9, 1408 – February 23, 1503 was born to Narayana Suri and Lakkamamba in Tallapaka, a village in current day Kadapa district of Andhra Pradesh. More….
Keerthana No. 23
Copper Sheet No. 45
Pallavi: Ettu Gadiyimce (ఎట్టు గడియించె)
Ragam: Sourastram
Language: Telugu (తెలుగు)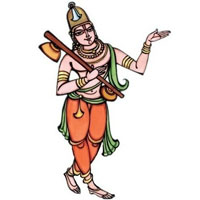 Recitals
Awaiting Contributions.
…
Awaiting Contributions.
[audio: audio-instrumental-file-name.mp3].
This Kriti was originally composed in Telugu. Other languages are for your convenience.
Pallavi
|| ఎట్టు గడియించె నమ్మ యీవలపు | పుట్టించి నటువంటి పూటకాపుమరుండు ||
Charanams
|| తడబాటు నాలికకు తలకు మానంబునకు | నొడబాటు మర్కపులకు నుదుటు దలపులకు |
కడువేడుకలు కోరికలకు భయ మాసలకు | బెడిదంపు గోపంబు బిత్తరి చూపులకు ||
|| అతి ముదము చింతలకును అలపు గర్వంబునకు | మితిలేని తాపంబు మెత్తని తనువునకు |
రతి గమ్మ చెమటలకు రచన విరహంబునకు | ధౄతి లేమి మనసునకు గతి గమనమునకు ||
|| కురులు నెన్నుదుటికిని గుర్కుతు లధరంబునకు | మురిపెంపు జిర్కునగవు ముద్దు మోమునకు |
దిరమైన వేడుకలు తిరువేంకటేశునకు | బరిణాపు మాటలివి పడతు లిందరికి ||
.
Pallavi
|| eTTu gaDiyiMce namma yIvalapu | puTTiMci naTuvaMTi pUTakApumaruMDu ||
Charanams
|| taDabATu nAlikaku talaku mAnaMbunaku | noDabATu marxapulaku nuduTu dalapulaku |
kaDuvEDukalu kOrikalaku Baya mAsalaku | beDidaMpu gOpaMbu bittari cUpulaku ||
|| ati mudamu ciMtalakunu alapu garvaMbunaku | mitilEni tApaMbu mettani tanuvunaku |
rati gamma cemaTalaku racana virahaMbunaku | dhRuti lEmi manasunaku gati gamanamunaku ||
|| kurulu nennuduTikini gurxutu ladharaMbunaku | muripeMpu jirxunagavu muddu mOmunaku |
diramaina vEDukalu tiruvEMkaTESunaku | bariNApu mATalivi paDatu liMdariki ||
.

We will update this page , once we find comprehensive meaning. Feel free to contribute if you know.
.