Composer: Sri Tallapaka Annamacharya (Annamayya అన్నమయ్య) , May 9, 1408 – February 23, 1503 was born to Narayana Suri and Lakkamamba in Tallapaka, a village in current day Kadapa district of Andhra Pradesh. More….
Keerthana No.101
Copper Sheet No. 58
Pallavi: Etuvamti mohamo (ఎటువంటి మోహమో)
Ragam: Samamtam
Language: Telugu (తెలుగు)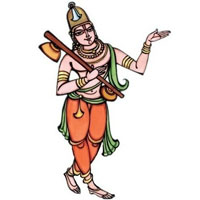 Recitals
Etuvamti mohamo | ఎటువంటి మోహమో
Album: Private | Voice: Unknown

Awaiting Contributions.
This Kriti was originally composed in Telugu. Other languages are for your convenience.
Pallavi
|| ఎటువంటి మోహమో ఏట్టి తమకమో గాని | తటుకునను దేహమంతయు మరచె చెలియ ||
Charanams
|| పలుకుతేనెల కొసరి పసిడి కిన్నెర మీటి | పలుచనెలుగున నిన్ను పాడిపాడి |
కలికి కన్నీరు బంగారు పయ్యెద నొలుక | తలయూచి తనలోనె తలవంచు చెలియ ||
|| పడతి నీవును తాను పవళించు పరపుపై | పొడము పరితాపమున పొరలి పొరలి |
జడిగొన్న జవ్వాది జారు చెమటల దోగి | ఉడుకు నూరుపుల నుసురుసురాయె చెలియ ||
|| తావిచల్లెడి మోముదమ్మి కడు వికసించె | లోవెలితి నవ్వులను లోగి లోగి |
శ్రీ వేంకటేశ లక్ష్మీకాంత నినుగలసి | ఈ వైభవము లందె ఇదివో చెలియ ||
.
Pallavi
|| eTuvaMTi mOhamO ETTi tamakamO gAni | taTukunanu dEhamaMtayu marace celiya ||
Charanams
|| palukutEnela kosari pasiDi kinnera mITi | palucaneluguna ninnu pADipADi |
kaliki kannIru baMgAru payyeda noluka | talayUci tanalOne talavaMcu celiya ||
|| paDati nIvunu tAnu pavaLiMcu parapupai | poDamu paritApamuna porali porali |
jaDigonna javvAdi jAru cemaTala dOgi | uDuku nUrupula nusurusurAye celiya ||
|| tAvicalleDi mOmudammi kaDu vikasiMce | lOveliti navvulanu lOgi lOgi |
SrI vEMkaTESa lakShmIkAMta ninugalasi | I vaibhavamu laMde idivO celiya ||
.

We will update this page , once we find comprehensive meaning. Feel free to contribute if you know.
.