Composer: Sri Tallapaka Annamacharya (Annamayya అన్నమయ్య) , May 9, 1408 – February 23, 1503 was born to Narayana Suri and Lakkamamba in Tallapaka, a village in current day Kadapa district of Andhra Pradesh. More….
Keerthana No. 30
Copper Sheet No. 1305
Pallavi: Etuvanti vilasini (ఎటువంటి విలాసిని)
Ragam: Nadaramakriya
Language: Telugu (తెలుగు)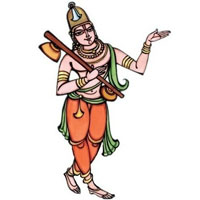 Recitals
Awaiting Contributions.
…
Awaiting Contributions.
[audio: audio-instrumental-file-name.mp3].
This Kriti was originally composed in Telugu. Other languages are for your convenience.
Pallavi
ఎటువంటి విలాసిని యెంతజాణ యీ చెలువ
తటుకన నీకు దక్క దైవార జూడవయ్యా ||
Charanams
1.మగువ మాటాడితేను మాణికాలు నిండుకొనీ
పగడాలు పెదవుల బచ్చిదేరీని
మగడి చూచితేను మంచినీలాలుప్పతిలీ
తగు నీకు నీ పెదిక్కు తప్పకచూడవయ్యా ||
2.పడతి జవ్వనమున బచ్చలు గమ్ముకొనీని
నడచితే వైడూర్యా లెడలీ గోళ్ళ
తొడిబడ నవ్వితేను తొరిగీని వజ్రాలు
వొడికమైనది యీపె వొరపు చూడవయ్యా ||
3.కొమ్మ ప్రియాల తేనెల గురిసీ బుశ్యరాగాలు
కుమ్మరించీ జెనకుల గోమేధికాలు
మమ్మరపు జెమటల ముత్తెపుసరాలి నిండీ
నెమ్మది శ్రీవేంకటేశ నీదేవి జూడవయ్యా ||
.
Pallavi
eTuvaMTi vilAsini yeMtajANa yI cheluva
taTukana nIku dakka daivAra jUDavayyA ||
Charanams
1.maguva mATADitEnu mANikAlu niMDukonI
pagaDAlu pedavula bachchidErIni
magaDi chUchitEnu maMchinIlAluppatilI
tagu nIku nI pedikku tappakachUDavayyA ||
2.paDati javvanamuna bachchalu gammukonIni
naDachitE vaiDUryA leDalI gOLLa
toDibaDa navvitEnu torigIni vajrAlu
voDikamainadi yIpe vorapu chUDavayyA ||
3.komma priyAla tEnela gurisI bushyarAgAlu
kummariMchI jenakula gOmEdhikAlu
mammarapu jemaTala muttepusarAli niMDI
nemmadi SrIvEMkaTESa nIdEvi jUDavayyA ||
.

We will update this page , once we find comprehensive meaning. Feel free to contribute if you know.
.