Composer: Sri Tallapaka Annamacharya (Annamayya అన్నమయ్య) , May 9, 1408 – February 23, 1503 was born to Narayana Suri and Lakkamamba in Tallapaka, a village in current day Kadapa district of Andhra Pradesh. More….
Keerthana No. 15
Copper Sheet No. 3
Pallavi: Evavvaru Leru (ఎవావ్వరు లెరూ)
Ragam: Varali
Language: Telugu (తెలుగు)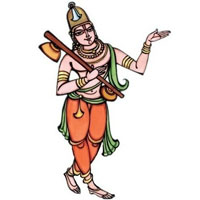 Recitals
Awaiting Contributions.
…
Awaiting Contributions.
[audio: audio-instrumental-file-name.mp3].
This Kriti was originally composed in Telugu. Other languages are for your convenience.
పల్లవి
ఎవావ్వరు లెరూ హితవుచేప్పగ వట్టీ
నోవ్వుల బడి నేము నోగిలేమయ్యా
చరణములు
1.ఆడవి బడినవాడు వేడల జోటులేక
తోడరి కంపలకిందు దూరినట్లు
నదుమ దురితకాననములతరి బడి
వేదలలేక నేము విసిగేమయ్య
2.తేవులువడినవాడు తినబోయి మథురము
చవిగాక పులుసులు చవిగోరినట్లు
భ్వరోగముల బడి పరమామృతము నోర
జవిగాక భవములు చవులాయనయ్య
3.తనవారి విడచి యితరమైనవారి
వెనక దరిగి తా వేఱ్ఱైనట్లు
ఆనయము తిరువేంకటాధీళు గోలువక
మనసులోనివాని మఱచమయ్యా
.
Pallavi
EvAvvaru LerU hitavucEppaga vaTTI
nOvvula baDi nEmu nOgilEmayyA
Charanams
1.ADavi baDinavADu vEDala jOTulEka
tODari kampalakimdu dUrinaTlu
naduma duritakAnanamulatari baDi
vEdalalEka nEmu visigEmayya
2.tEvuluvaDinavADu tinabOyi mathuramu
chavigAka pulusulu chavigOrinaTlu
BvarOgamula baDi paramAmRtamu nOra
javigAka Bhavamulu chavulAyanayya
3.tanavAri viDachi yitaramainavAri
venaka darigi tA vE~r~rainaTlu
Anayamu tiruvEmkaTAdhIlhu gOluvaka
manasulOnivAni ma~racamayyA
.

We will update this page , once we find comprehensive meaning. Feel free to contribute if you know.
.