Composer: Muttukumaraswamy (முத்துகுமாரச்வாமி) popularly known as Muthuswamy Dikshithar (முத்துஸ்வாமி தீக்ஷிதர் – ముత్తుస్వామీ డిక్షితర్), (March 24, 1775 – October 21, 1835) was born in Tiruvarur (of Thanjavur district of Tamil Nadu) to a Tamil Iyer Brahmin couple Ramaswami Dikshitar and Subbamma, as the eldest son. He also had two younger brothers Baluswami, Chinnaswami and a sister Balambal.Chidambaranatha Yogi was his guru. More…

Raagam: Vahini
Taalam: Catusra Ekam
Diety: Maha Ganapati krithis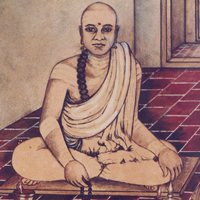 .
Recitals
Album: Unknown | Voice: Dr.S.R.Srinivasa Iyer
Album: Unknown | Voice: Nadanuri Krishnamurthy

Awaiting Contributions.

We believe this kriti was originally composed in sanskrit. Other languages are for your convenience.
పల్లవి
గజానన యుతం గణేశ్వరం
భజామి సతతం సురేశ్వరమ్
సమష్టి చరణము
అజేంద్ర పూజిత విఘ్నేశ్వరం
గణాది సన్నుత పద పద్మ కరం
(మధ్యమ కాల సాహిత్యమ్)
కుంజర భంజన చతుర-తర కరం
గురు గుహాగ్రజం ప్రణవాకారమ్
.
பல்லவி
க3ஜானன யுதம் க3ணேஸ்1வரம்
ப4ஜாமி ஸததம் ஸுரேஸ்1வரம்
ஸமஷ்டி சரணம்
அஜேந்த்3ர பூஜித விக்4னேஸ்1வரம்
க3ணாதி3 ஸன்னுத பத3 பத்3ம கரம்
(மத்4யம கால ஸாஹித்யம்)
குஞ்ஜர ப4ஞ்ஜன சதுர-தர கரம்
கு3ரு கு3ஹாக்3ரஜம் ப்ரணவாகாரம்
.
ಪಲ್ಲವಿ
ಗಜಾನನ ಯುತಂ ಗಣೇಶ್ವರಂ
ಭಜಾಮಿ ಸತತಂ ಸುರೇಶ್ವರಮ್
ಸಮಷ್ಟಿ ಚರಣಮ್
ಅಜೇಂದ್ರ ಪೂಜಿತ ವಿಘ್ನೇಶ್ವರಂ
ಗಣಾದಿ ಸನ್ನುತ ಪದ ಪದ್ಮ ಕರಂ
(ಮಧ್ಯಮ ಕಾಲ ಸಾಹಿತ್ಯಮ್)
ಕುಂಜರ ಭಂಜನ ಚತುರ-ತರ ಕರಂ
ಗುರು ಗುಹಾಗ್ರಜಂ ಪ್ರಣವಾಕಾರಮ್
.
पल्लवि
गजानन युतं गणेश्वरं
भजामि सततं सुरेश्वरम्
समष्टि चरणम्
अजेन्द्र पूजित विघ्नेश्वरं
गणादि सन्नुत पद पद्म करं
(मध्यम काल साहित्यम्)
कुञ्जर भञ्जन चतुर-तर करं
गुरु गुहाग्रजं प्रणवाकारम्
.
pallavi
gajAnana yutaM gaNESvaraM
bhajAmi satataM surESvaram
samashTi caraNam
ajEndra pUjita vighnESvaraM
gaNAdi sannuta pada padma karaM
(madhyama kAla sAhityam)
kunjara bhanjana catura-tara karaM
guru guhAgrajaM praNavAkAram
.
പല്ലവി
ഗജാനന യുതം ഗണേശ്വരം
ഭജാമി സതതം സുരേശ്വരമ്
സമഷ്ടി ചരണമ്
അജേന്ദ്ര പൂജിത വിഘ്നേശ്വരം
ഗണാദി സന്നുത പദ പദ്മ കരം
(മധ്യമ കാല സാഹിത്യമ്)
കുഞ്ജര ഭഞ്ജന ചതുര-തര കരം
ഗുരു ഗുഹാഗ്രജം പ്രണവാകാരമ്
.
Pallavi
I forever worship the one who has an elephant's face,the Lord of the ganas and devas.
SamashtiCharanam
The remover of obstacles who was worshipped by Brahma and Indra,One whose lotus-like Hands and feet are adored by the ganas and others,one who was clever in killing Gajasura, One who is the elder brother of guruguha,the symbolism of the pranava or the mystic aumkAra..
.