Composer: Sri Tallapaka Annamacharya (Annamayya అన్నమయ్య) , May 9, 1408 – February 23, 1503 was born to Narayana Suri and Lakkamamba in Tallapaka, a village in current day Kadapa district of Andhra Pradesh. More….
Keerthana No.22
Copper Sheet No. 304
Pallavi:Ganu Datade mamu (ఘను డాతడే మము)
Ragam: lalitha
Language: Telugu (తెలుగు)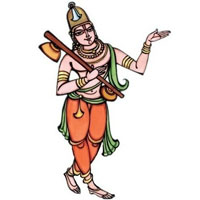 Recitals
Awaiting Contributions.
…
Awaiting Contributions.
[audio: audio-instrumental-file-name.mp3].
This Kriti was originally composed in Telugu. Other languages are for your convenience.
పల్లవి
ఘను డాతడే మము గాచుగాక హరి
అనిశము నే మిక నతినికె శరణు
చరణములు
1.యెవ్వనినాభిని యీ బ్రహ్మాదులు
యెవ్వడు రక్షకు డిన్నిటికి
యెవ్వనిమూలము యీ సచరాచర-
మవ్వలనివ్వల నతనికే శరణు
2.పురుషోత్తముడని పొగడి రెవ్వరిని
కరి నెవ్వడు గక్కన గాచె
ధర యెవ్వడెత్తెదనుజుల బొరిగొనె
అరుదుగ మే మిక నతనికె శరణు
3.శ్రీసతి యెవ్వని జేరి పురమునను
భసిల్లె నెవ్వడు పరమంబై
దాసులకొరలఒ తగు శ్రీవేంకట
మాన చూపె నిత డతనికే శరణు
.
Pallavi
Ganu DAtaDE mamu gAcugAka hari
aniSamu nE mika natinike SaraNu
Charanams
1.yevvaninABini yI brahmAdulu
yevvaDu raxaku DinniTiki
yevvanimUlamu yI sacarAcara-
mavvalanivvala natanikE SaraNu
2.purushOttamuDani pogaDi revvarini
kari nevvaDu gakkana gAce
dhara yevvaDettedanujula borigone
aruduga mE mika natanike SaraNu
3.SrIsati yevvani jEri puramunanu
Basille nevvaDu paramaMbai
dAsulakoralao tagu SrIvEMkaTa
mAna cUpe nita DatanikE SaraNu
.

We will update this page , once we find comprehensive meaning. Feel free to contribute if you know.
.