Composer: Sri Tallapaka Annamacharya (Annamayya అన్నమయ్య) , May 9, 1408 – February 23, 1503 was born to Narayana Suri and Lakkamamba in Tallapaka, a village in current day Kadapa district of Andhra Pradesh. More….
Keerthana No. 3
Copper Sheet No. 201
Pallavi: Gelichina bhavanamulu
(గెలిచిన భవనములు)
Ragam: Salamganata
Language: Telugu (తెలుగు)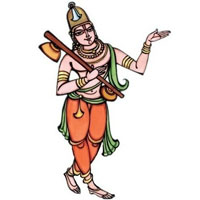 Recitals
Awaiting Contributions.
…
Awaiting Contributions.
[audio: audio-instrumental-file-name.mp3].
This Kriti was originally composed in Telugu. Other languages are for your convenience.
పల్లవి
గెలిచిన భవనములు గెలిచిన లోకము
యెలమి నీచాసుల కెదు రింక నేది
చరణములు
1.జయ జయ నరసింహా జయ పుందరీకాక్ష
జయ జయ మురహర జయ ముకుంద
భయహరణము మాకు బాపనాశనము
క్రియతోది నీసంకీర్తన గలిగే || గెలిచిన ||
2.నమో నమో దేవ నమో నాగపర్యంక
నమో వేదముర్తి నారాయణ
తిమిరి మమ్ము గావగ దిక్కయి మాకు నిలువ
జమళిభుజముల శంకుజక్రములు గలిగే || గెలిచిన ||
3.రక్ష రక్ష పరమాత్మ రక్ష శ్రీవేంకతపతి
రక్ష రక్ష కమలారమణ పతి
అక్షయసుఖ మియ్యగల నతు దాపుదండనా
పక్షి వాహనుడ నీభక్తి మాకుగలిగే || గెలిచిన ||
.
Pallavi
gelichina Bhavanamulu gelichina lOkamu
yelami nIcAsula kedu riMka nEdi
Charanams
1.jaya jaya narasiMhA jaya pundarIkAkSha
jaya jaya murahara jaya mukuMda
BayaharaNamu mAku bApanASanamu
kriyatOdi nIsaMkeertana galigE || gelichina ||
2.namO namO dEva namO nAgaparyaMka
namO vEdamurti nArAyaNa
timiri mammu gAvaga dikkayi mAku niluva
jamaLiBujamula Sankujakramulu galigE || gelichina ||
3.rakSha rakSha paramAtma rakSha SrIvEnkatapati
rakSha rakSha kamalAramaNa pati
akShayasuKa miyyagala natu dApudMDanA
pakShi vAhanuDa nIBakti mAkugaligE || gelichina ||
.

We will update this page , once we find comprehensive meaning. Feel free to contribute if you know.
.