Composer: Sri Tallapaka Annamacharya (Annamayya అన్నమయ్య) , May 9, 1408 – February 23, 1503 was born to Narayana Suri and Lakkamamba in Tallapaka, a village in current day Kadapa district of Andhra Pradesh. More….
Keerthana No. 264
Copper Sheet No. 75
Pallavi: Gigge Gagalimcukove (గిగ్గెఁ గాఁగలించుకోవే)
Ragam: Sriragam
Language: Telugu (తెలుగు)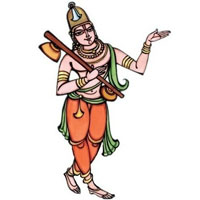 Recitals
Awaiting Contributions.
…
Awaiting Contributions.
[audio: audio-instrumental-file-name.mp3].
This Kriti was originally composed in Telugu. Other languages are for your convenience.
పల్లవి
గిగ్గెఁ గాఁగలించుకోవే పిరితీయక
వుగ్గుల యేతనిమేను నేఁడే నొచ్చీనా
చరణములు
1.మందరమెత్తినవాఁడు మల్లుల మొత్తినవాఁడు
అందపు నీ గుబ్బల వేఁగాన లేఁడా
గొందినున్న కుచములు కొనవాడ్లైటేను
చెందిన యాతనిమేను చిల్లులయ్యీనా
2.భూమెల్ల మోఁచినవాఁడు పొడవు దాఁచినవాఁడు
భమ నీ మొలనూలు భారమనీనా
వోమక యాతనితోడి వుపరిసురతానకు
యేమని వేఁడుకొనిన యేల లోఁగేవే
3.వేంకటనగమువాఁడు వెన్నెలమొగమునాఁడు
కింకల నీ చేఁతలకుఁ గిందుపడీనా
పంకజవదన నీకుఁ బాయలేక చెనకిన
కుంకుమగుబ్బల్ చెనకులకోపఁడా
.
Pallavi
gigge@m gA@mgalimcukOvE piritIyaka
vuggula yEtanimEnu nE@mDE noccInA
Charanams
1.mamdaramettinavA@mDu mallula mottinavA@mDu
amdapu nI gubbala vE@mgAna lE@mDA
gomdinunna kucamulu konavADlaiTEnu
cemdina yAtanimEnu cillulayyInA
2.BUmella mO@mcinavA@mDu poDavu dA@mcinavA@mDu
Bama nI molanUlu BAramanInA
vOmaka yAtanitODi vuparisuratAnaku
yEmani vE@mDukonina yEla lO@mgEvE
3.vEmkaTanagamuvA@mDu vennelamogamunA@mDu
kimkala nI cE@mtalaku@m gimdupaDInA
pamkajavadana nIku@m bAyalEka cenakina
kumkumagubbal cenakulakOpa@mDA
.

We will update this page , once we find comprehensive meaning. Feel free to contribute if you know.
.