Composer: Sri Tallapaka Annamacharya (Annamayya అన్నమయ్య) , May 9, 1408 – February 23, 1503 was born to Narayana Suri and Lakkamamba in Tallapaka, a village in current day Kadapa district of Andhra Pradesh. More….
Keerthana No. 11
Copper Sheet No. 202
Pallavi: Gnaninai na (ఙ్ఞానినై నా)
Ragam: Lalita
Language: Telugu (తెలుగు)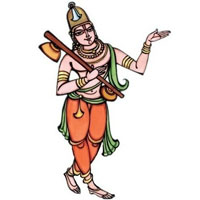 Recitals
Awaiting Contributions.
…
Awaiting Contributions.
[audio: audio-instrumental-file-name.mp3].
This Kriti was originally composed in Telugu. Other languages are for your convenience.
పల్లవి
ఙ్ఞానినై నా నీకు బోదఙ్ఞానినై నా నీకుబోదు
నేను చేసిననేరమి మీకే సెలవయ్యా
చరణములు
1.గరమ మాపుట్టుగు నీగర్భవాసములోనే
అరయ మామోక్షము నీయరచేతిదే
వెరవు లెంచుకోబోతే వేరే మాసు గతి లేదు
నిరతి మాబదుకులు నీకే సెలవయ్యా || ఙ్ఞానినై ||
2.నిండిన మాకోరికలు నీపెరరేపులే
వుండజోటు నీకు నావుల్లములోనే
చండిపెట్టి మాకై తే స్వతంత్ర మించుకా లేదు
నిండినమాచేతలెల్లా నీకే సెలవయ్య || ఙ్ఞానినై ||
3.యిదె మాసంసారములు యిట్టె నీకల్పితములు
తుదముదులును నేవే తోడునీడవు
యెదుట శ్రీవేంకటేశ యేలినవాడవు నీవే
నిదురమాదినములు నీకే సెలవయ్య || ఙ్ఞానినై ||
.
Pallavi
~m~nAninai nA nIku bOda~m~nAninai nA nIkubOdu
nEnu chEsinanErami mIkE selavayyA
Charanams
1.garama mApuTTugu nIgarBavAsamulOnE
araya mAmOxamu nIyarachEtidE
veravu leMchukObOtE vErE mAsu gati lEdu
nirati mAbadukulu nIkE selavayyA || ~m~nAninai ||
2.niMDina mAkOrikalu nIperarEpulE
vuMDajOTu nIku nAvullamulOnE
chMDipeTTi mAkai tE swataMtra miMchukA lEdu
niMDinamAchEtalellA nIkE selavayya || ~m~nAninai ||
3.yide mAsaMsAramulu yiTTe nIkalpitamulu
tudamudulunu nEvE tODunIDavu
yeduTa SrIvEMkaTESa yElinavADavu nIvE
niduramAdinamulu nIkE selavayya || ~m~nAninai ||
.

We will update this page , once we find comprehensive meaning. Feel free to contribute if you know.
.