Composer: Sri Tallapaka Annamacharya (Annamayya అన్నమయ్య) , May 9, 1408 – February 23, 1503 was born to Narayana Suri and Lakkamamba in Tallapaka, a village in current day Kadapa district of Andhra Pradesh. More….
Keerthana No. 233
Copper Sheet No. PTS-39
Pallavi: Govimda Namda Namdana (గోవింద నందనందన)
Ragam: Dhannasi
Language: Telugu (తెలుగు)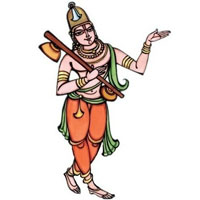 Recitals
Awaiting Contributions.
…
Awaiting Contributions.
[audio: audio-instrumental-file-name.mp3].
This Kriti was originally composed in Telugu. Other languages are for your convenience.
Pallavi
గోవింద నందనందన గోపాలక్రుశ్ణ నీ
భావము మాకుంజిక్కె గోపాలక్రుశ్ణ ||
Charanams
1.కొంగువట్టినదేమోయి గోపాలక్రుశ్ణ మా
వంగెన కోవుదువా గోపాలక్రుశ్ణ
దొంగతనాల నవ్వేవు గోపాలక్రుశ్ణ
బంగారు కాళితోడి గోపాలక్రుశ్ణ ||
2.కొమ్మల చీరలంటిన గోపాలక్రుశ్ణ
పమ్మి నిన్నుం దిట్టేము గోపాలక్రుశ్ణ
కుమ్మరించేవేల సిగ్గు గోపాలక్రుశ్ణ
బమ్మెర పోతిందుల గోపాలక్రుశ్ణ ||
.
Pallavi
gOviMda naMdanaMdana gOpAlakrushNa nI
bhAvamu mAkuMjikke gOpAlakrushNa ||
Charanams
1.koMguvaTTinadEmOyi gOpAlakrushNa mA
vaMgena kOvuduvA gOpAlakrushNa
doMgatanAla navvEvu gOpAlakrushNa
baMgAru kALitODi gOpAlakrushNa ||
2.kommala chIralaMTina gOpAlakrushNa
pammi ninnuM diTTEmu gOpAlakrushNa
kummariMchEvEla siggu gOpAlakrushNa
bammera pOtiMdula gOpAlakrushNa ||
.

We will update this page , once we find comprehensive meaning. Feel free to contribute if you know.
.