Composer: Muttukumaraswamy (முத்துகுமாரச்வாமி) popularly known as Muthuswamy Dikshithar (முத்துஸ்வாமி தீக்ஷிதர் – ముత్తుస్వామీ డిక్షితర్), (March 24, 1775 – October 21, 1835) was born in Tiruvarur (of Thanjavur district of Tamil Nadu) to a Tamil Iyer Brahmin couple Ramaswami Dikshitar and Subbamma, as the eldest son. He also had two younger brothers Baluswami, Chinnaswami and a sister Balambal.Chidambaranatha Yogi was his guru. More…
Raagam: Mukhari
Taalam: Triputa
Diety: Chidambaram – Govinda Rajeswara Kritis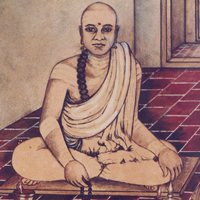 .
Recitals
Album: Unknown | Voice: R.Vedhavalli

Awaiting Contributions.

We believe this kriti was originally composed in sanskrit. Other languages are for your convenience.
పల్లవి
గోవింద రాజం ఉపాస్మహే నిత్యం
శ్రీ గురు గుహ వినుత చిదాకాశ గృహే
అనుపల్లవి
దేవ రాజాది పూజిత దివ్య గాత్రం
దీనార్తి భంజన నిపుణ-తర క్షేత్రం
దేవకీ వసు దేవ పుత్రం
(మధ్యమ కాల సాహిత్యమ్)
దేవ కనక సభేశ మిత్రం
దేశిక నుత రమా కళత్రమ్
చరణము
నృగ రాజస్య కృకలాస జన్మాపహం
నృపతిం రుక్మిణీ సత్య భామాబ్జ మధు లోలమ్
భగవంతం భక్త కల్పక ధరణీ రుహం
భద్ర ప్రదోద్యుక్త పాణి సరోరుహం ఉరగ శయనం
అంఘ్రి సరసీరుహం ఆనన జల రుహమ్
(మధ్యమ కాల సాహిత్యమ్)
నగ ధరం గోపికా మోహం
నత భాగవతాది సమూహం
ఖగ రాజ తురగారోహం
కరుణామృత రస ప్రవాహమ్
variations
దేవ రాజాది – దేవ రాజ
.
பல்லவி
கோ3விந்த3 ராஜம் உபாஸ்மஹே நித்யம்
ஸ்ரீ கு3ரு கு3ஹ வினுத சிதா3காஸ1 க்3ரு2ஹே
அனுபல்லவி
தே3வ ராஜாதி3 பூஜித தி3வ்ய கா3த்ரம்
தீ3னார்தி ப4ஞ்ஜன நிபுண-தர க்ஷேத்ரம்
தே3வகீ வஸு தே3வ புத்ரம்
(மத்4யம கால ஸாஹித்யம்)
தே3வ கனக ஸபே4ஸ1 மித்ரம்
தே3ஸி1க நுத ரமா களத்ரம்
சரணம்
ந்ரு2க3 ராஜஸ்ய க்ரு2கலாஸ ஜன்மாபஹம்
ந்ரு2பதிம் ருக்மிணீ ஸத்ய பா4மாப்3ஜ மது4 லோலம்
ப4க3வந்தம் ப4க்த கல்பக த4ரணீ ருஹம்
ப4த்3ர ப்ரதோ3த்3யுக்த பாணி ஸரோருஹம் உரக3 ஸ1யனம்
அங்க்4ரி ஸரஸீருஹம் ஆனன ஜல ருஹம்
(மத்4யம கால ஸாஹித்யம்)
நக3 த4ரம் கோ3பிகா மோஹம்
நத பா4க3வதாதி3 ஸமூஹம்
க2க3 ராஜ துரகா3ரோஹம்
கருணாம்ரு2த ரஸ ப்ரவாஹம்
variations
தே3வ ராஜாதி3 – தே3வ ராஜ
.
ಪಲ್ಲವಿ
ಗೋವಿಂದ ರಾಜಂ ಉಪಾಸ್ಮಹೇ ನಿತ್ಯಂ
ಶ್ರೀ ಗುರು ಗುಹ ವಿನುತ ಚಿದಾಕಾಶ ಗೃಹೇ
ಅನುಪಲ್ಲವಿ
ದೇವ ರಾಜಾದಿ ಪೂಜಿತ ದಿವ್ಯ ಗಾತ್ರಂ
ದೀನಾರ್ತಿ ಭಂಜನ ನಿಪುಣ-ತರ ಕ್ಷೇತ್ರಂ
ದೇವಕೀ ವಸು ದೇವ ಪುತ್ರಂ
(ಮಧ್ಯಮ ಕಾಲ ಸಾಹಿತ್ಯಮ್)
ದೇವ ಕನಕ ಸಭೇಶ ಮಿತ್ರಂ
ದೇಶಿಕ ನುತ ರಮಾ ಕಳತ್ರಮ್
ಚರಣಮ್
ನೃಗ ರಾಜಸ್ಯ ಕೃಕಲಾಸ ಜನ್ಮಾಪಹಂ
ನೃಪತಿಂ ರುಕ್ಮಿಣೀ ಸತ್ಯ ಭಾಮಾಬ್ಜ ಮಧು ಲೋಲಮ್
ಭಗವಂತಂ ಭಕ್ತ ಕಲ್ಪಕ ಧರಣೀ ರುಹಂ
ಭದ್ರ ಪ್ರದೋದ್ಯುಕ್ತ ಪಾಣಿ ಸರೋರುಹಂ ಉರಗ ಶಯನಂ
ಅಂಘ್ರಿ ಸರಸೀರುಹಂ ಆನನ ಜಲ ರುಹಮ್
(ಮಧ್ಯಮ ಕಾಲ ಸಾಹಿತ್ಯಮ್)
ನಗ ಧರಂ ಗೋಪಿಕಾ ಮೋಹಂ
ನತ ಭಾಗವತಾದಿ ಸಮೂಹಂ
ಖಗ ರಾಜ ತುರಗಾರೋಹಂ
ಕರುಣಾಮೃತ ರಸ ಪ್ರವಾಹಮ್
variations
ದೇವ ರಾಜಾದಿ – ದೇವ ರಾಜ
.
पल्लवि
गोविन्द राजं उपास्महे नित्यं
श्री गुरु गुह विनुत चिदाकाश गृहे
अनुपल्लवि
देव राजादि पूजित दिव्य गात्रं
दीनार्ति भञ्जन निपुण-तर क्षेत्रं
देवकी वसु देव पुत्रं
(मध्यम काल साहित्यम्)
देव कनक सभेश मित्रं
देशिक नुत रमा कळत्रम्
चरणम्
नृग राजस्य कृकलास जन्मापहं
नृपतिं रुक्मिणी सत्य भामाब्ज मधु लोलम्
भगवन्तं भक्त कल्पक धरणी रुहं
भद्र प्रदोद्युक्त पाणि सरोरुहं उरग शयनं
अङ्घ्रि सरसीरुहं आनन जल रुहम्
(मध्यम काल साहित्यम्)
नग धरं गोपिका मोहं
नत भागवतादि समूहं
खग राज तुरगारोहं
करुणामृत रस प्रवाहम्
variations
देव राजादि – देव राज
.
pallavi
gOvinda rAjaM upAsmahE nityaM
SrI guru guha vinuta cidAkASa gRhE
anupallavi
dEva rAjAdi pUjita divya gAtraM
dInArti bhanjana nipuNa-tara kshEtraM
dEvakI vasu dEva putraM
(madhyama kAla sAhityam)
dEva kanaka sabhESa mitraM
dESika nuta ramA kaLatram
caraNam
nRga rAjasya kRkalAsa janmApahaM
nRpatiM rukmiNI satya bhAmAbja madhu lOlam
bhagavantaM bhakta kalpaka dharaNI ruhaM
bhadra pradOdyukta pANi sarOruhaM uraga SayanaM
anghri sarasIruhaM Anana jala ruham
(madhyama kAla sAhityam)
naga dharaM gOpikA mOhaM
nata bhAgavatAdi samUhaM
khaga rAja turagArOhaM
karuNAmRta rasa pravAham
variations
dEva rAjAdi – dEva rAja
.
പല്ലവി
ഗോവിന്ദ രാജം ഉപാസ്മഹേ നിത്യം
ശ്രീ ഗുരു ഗുഹ വിനുത ചിദാകാശ ഗൃഹേ
അനുപല്ലവി
ദേവ രാജാദി പൂജിത ദിവ്യ ഗാത്രം
ദീനാര്തി ഭഞ്ജന നിപുണ-തര ക്ഷേത്രം
ദേവകീ വസു ദേവ പുത്രം
(മധ്യമ കാല സാഹിത്യമ്)
ദേവ കനക സഭേശ മിത്രം
ദേശിക നുത രമാ കളത്രമ്
ചരണമ്
നൃഗ രാജസ്യ കൃകലാസ ജന്മാപഹം
നൃപതിം രുക്മിണീ സത്യ ഭാമാബ്ജ മധു ലോലമ്
ഭഗവന്തം ഭക്ത കല്പക ധരണീ രുഹം
ഭദ്ര പ്രദോദ്യുക്ത പാണി സരോരുഹം ഉരഗ ശയനം
അങ്ഘ്രി സരസീരുഹം ആനന ജല രുഹമ്
(മധ്യമ കാല സാഹിത്യമ്)
നഗ ധരം ഗോപികാ മോഹം
നത ഭാഗവതാദി സമൂഹം
ഖഗ രാജ തുരഗാരോഹം
കരുണാമൃത രസ പ്രവാഹമ്
variations
ദേവ രാജാദി – ദേവ രാജ
.
Pallavi
I always think of Govindaraja; the one who is praised by guruguha and dwelling in Chidambaram the Cidakasha griha
Anupallavi
The one who has the beauty of being praised by Indra-Lord of the devas; the one who is an expert in removing the sorrows of the destitute; the son of Devaki & Vasudeva; the friend of Nataraja; the consort of Rama worshipped by preceptors
Charanam
The one who removed the curse of the king who was born as a chameleon; the king of kings; the bee that hovers around the sweet honey that is in the lotus of Rukmini & Sathyabhama; the God who is like the celestial wish-yielding tree to his devotees; the one who lies recumbent on a serpent; the lotus-feet; the lotus-like face; the one who lifted the Govardana hillock; the one fond of the cowherdesses; the one who has the worshipping devotee crowds; the one who rides on Garuda; the flood of the nectar of mercy.
.