Composer: Muttukumaraswamy (முத்துகுமாரச்வாமி) popularly known as Muthuswamy Dikshithar (முத்துஸ்வாமி தீக்ஷிதர் – ముత్తుస్వామీ డిక్షితర్), (March 24, 1775 – October 21, 1835) was born in Tiruvarur (of Thanjavur district of Tamil Nadu) to a Tamil Iyer Brahmin couple Ramaswami Dikshitar and Subbamma, as the eldest son. He also had two younger brothers Baluswami, Chinnaswami and a sister Balambal.Chidambaranatha Yogi was his guru. More…
Raagam: Balahamsa
Taalam: Jhampa
Diety: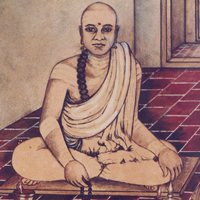 .
Recitals
Album: Unknown | Voice: Unknown

Awaiting Contributions.

We believe this kriti was originally composed in sanskrit. Other languages are for your convenience.
పల్లవి
గురు గుహాదన్యం న జానేऽహం
గుప్తాగమార్థ తత్వ ప్రబోధినో
అనుపల్లవి
అరుణోదయానంత కోటి బ్రహ్మాండాకార –
శివాది ధరాంత తత్వ స్వరూపిణో
చరణమ్
సహస్ర దళ సరసిజ మధ్య నివాసినః
సకల చంద్ర భాస్కర తేజఃప్రకాశినః
సహజానంద స్థిత దాస విశ్వాసినః
సచ్చిత్సుఖాత్మక విశ్వ విలాసినో
(మధ్యమ కాల సాహిత్యమ్)
అహరహఃప్రబల హంస ప్రకాశాత్మనో
దహర విద్యా ప్రదాయక పరమాత్మనో
జహదజహల్లక్షణయా జీవైక్యాత్మనో
రహఃపూజిత చిదానంద నాథాత్మనో
variations:
అరుణోదయానంత – అరుణోదయానంద
విశ్వ విలాసినో – విశ్వ విలాసినః
.
பல்லவி
கு3ரு கு3ஹாத3ன்யம் ந ஜானேऽஹம்
கு3ப்தாக3மார்த2 தத்வ ப்ரபோ3தி4னோ
அனுபல்லவி
அருணோத3யானந்த கோடி ப்3ரஹ்மாண்டா3கார –
ஸி1வாதி3 த4ராந்த தத்வ ஸ்வரூபிணோ
சரணம்
ஸஹஸ்ர த3ள ஸரஸிஜ மத்4ய நிவாஸின:
ஸகல சந்த்3ர பா4ஸ்கர தேஜ:ப்ரகாஸி1ன:
ஸஹஜானந்த3 ஸ்தி2த தா3ஸ விஸ்1வாஸின:
ஸச்சித்ஸுகா2த்மக விஸ்1வ விலாஸினோ
(மத்4யம கால ஸாஹித்யம்)
அஹரஹ:ப்ரப3ல ஹம்ஸ ப்ரகாஸா1த்மனோ
த3ஹர வித்3யா ப்ரதா3யக பரமாத்மனோ
ஜஹத3ஜஹல்லக்ஷணயா ஜீவைக்யாத்மனோ
ரஹ:பூஜித சிதா3னந்த3 நாதா2த்மனோ
variations:
அருணோத3யானந்த – அருணோத3யானந்த3
விஸ்1வ விலாஸினோ – விஸ்1வ விலாஸின:
.
ಪಲ್ಲವಿ
ಗುರು ಗುಹಾದನ್ಯಂ ನ ಜಾನೇऽಹಂ
ಗುಪ್ತಾಗಮಾರ್ಥ ತತ್ವ ಪ್ರಬೋಧಿನೋ
ಅನುಪಲ್ಲವಿ
ಅರುಣೋದಯಾನಂತ ಕೋಟಿ ಬ್ರಹ್ಮಾಂಡಾಕಾರ –
ಶಿವಾದಿ ಧರಾಂತ ತತ್ವ ಸ್ವರೂಪಿಣೋ
ಚರಣಮ್
ಸಹಸ್ರ ದಳ ಸರಸಿಜ ಮಧ್ಯ ನಿವಾಸಿನಃ
ಸಕಲ ಚಂದ್ರ ಭಾಸ್ಕರ ತೇಜಃಪ್ರಕಾಶಿನಃ
ಸಹಜಾನಂದ ಸ್ಥಿತ ದಾಸ ವಿಶ್ವಾಸಿನಃ
ಸಚ್ಚಿತ್ಸುಖಾತ್ಮಕ ವಿಶ್ವ ವಿಲಾಸಿನೋ
(ಮಧ್ಯಮ ಕಾಲ ಸಾಹಿತ್ಯಮ್)
ಅಹರಹಃಪ್ರಬಲ ಹಂಸ ಪ್ರಕಾಶಾತ್ಮನೋ
ದಹರ ವಿದ್ಯಾ ಪ್ರದಾಯಕ ಪರಮಾತ್ಮನೋ
ಜಹದಜಹಲ್ಲಕ್ಷಣಯಾ ಜೀವೈಕ್ಯಾತ್ಮನೋ
ರಹಃಪೂಜಿತ ಚಿದಾನಂದ ನಾಥಾತ್ಮನೋ
variations:
ಅರುಣೋದಯಾನಂತ – ಅರುಣೋದಯಾನಂದ
ವಿಶ್ವ ವಿಲಾಸಿನೋ – ವಿಶ್ವ ವಿಲಾಸಿನಃ
.
पल्लवि
गुरु गुहादन्यं न जानेऽहं
गुप्तागमार्थ तत्व प्रबोधिनो
अनुपल्लवि
अरुणोदयानन्त कोटि ब्रह्माण्डाकार –
शिवादि धरान्त तत्व स्वरूपिणो
चरणम्
सहस्र दळ सरसिज मध्य निवासिनः
सकल चन्द्र भास्कर तेजःप्रकाशिनः
सहजानन्द स्थित दास विश्वासिनः
सच्चित्सुखात्मक विश्व विलासिनो
(मध्यम काल साहित्यम्)
अहरहःप्रबल हंस प्रकाशात्मनो
दहर विद्या प्रदायक परमात्मनो
जहदजहल्लक्षणया जीवैक्यात्मनो
रहःपूजित चिदानन्द नाथात्मनो
variations:
अरुणोदयानन्त – अरुणोदयानन्द
विश्व विलासिनो – विश्व विलासिनः
.
pallavi
guru guhAdanyaM na jAnE(a)haM
guptAgamArtha tatva prabOdhinO
anupallavi
aruNOdayAnanta kOTi brahmANDAkAra –
SivAdi dharAnta tatva svarUpiNO
caraNam
sahasra daLa sarasija madhya nivAsinaH
sakala candra bhAskara tEjaHprakASinaH
sahajAnanda sthita dAsa viSvAsinaH
saccitsukhAtmaka viSva vilAsinO
(madhyama kAla sAhityam)
aharahaHprabala haMsa prakASAtmanO
dahara vidyA pradAyaka paramAtmanO
jahadajahallakshaNayA jIvaikyAtmanO
rahaHpUjita cidAnanda nAthAtmanO
variations:
aruNOdayAnanta – aruNOdayAnanda
viSva vilAsinO – viSva vilAsinaH
kshEtra – tiruttaNi-1;
tiruttaNi-2
.
പല്ലവി
ഗുരു ഗുഹാദന്യം ന ജാനേऽഹം
ഗുപ്താഗമാര്ഥ തത്വ പ്രബോധിനോ
അനുപല്ലവി
അരുണോദയാനന്ത കോടി ബ്രഹ്മാണ്ഡാകാര –
ശിവാദി ധരാന്ത തത്വ സ്വരൂപിണോ
ചരണമ്
സഹസ്ര ദള സരസിജ മധ്യ നിവാസിനഃ
സകല ചന്ദ്ര ഭാസ്കര തേജഃപ്രകാശിനഃ
സഹജാനന്ദ സ്ഥിത ദാസ വിശ്വാസിനഃ
സച്ചിത്സുഖാത്മക വിശ്വ വിലാസിനോ
(മധ്യമ കാല സാഹിത്യമ്)
അഹരഹഃപ്രബല ഹംസ പ്രകാശാത്മനോ
ദഹര വിദ്യാ പ്രദായക പരമാത്മനോ
ജഹദജഹല്ലക്ഷണയാ ജീവൈക്യാത്മനോ
രഹഃപൂജിത ചിദാനന്ദ നാഥാത്മനോ
variations:
അരുണോദയാനന്ത – അരുണോദയാനന്ദ
വിശ്വ വിലാസിനോ – വിശ്വ വിലാസിനഃ
.
Pallavi:
I know of none other than guruguha.The one who taught the esoteric lore of the Agamas.
Anupallavi:
The form of the tatvas beginning with Shiva.The one who has the amshas of arunodaya in countless universes to prithvi.
Charanam:
The one who dwells in the center of the 1000-petalled lotus.The one who gives light to the suns and moons in all the universes.The one who has faith in the devotees who sport in the bliss of sahaja.The one who is in this world as sat, cit and ananda.The one who grants the form of the self frequently to the famous yogins.The form of the supreme Lord which bestows dahara vidya.The one who illustrates the union of the individual and supreme soul through jahallakshana and ajahallakshaNa.The cidananda form worshipped with esoteric rites.
Notes:
Dikshitar uses the vEdanta paribhAsha when he refers to jahallakshaNa and ajahallakshaNa.
kshEtra – tiruttaNi
.