Composer: Sri Tallapaka Annamacharya (Annamayya అన్నమయ్య) , May 9, 1408 – February 23, 1503 was born to Narayana Suri and Lakkamamba in Tallapaka, a village in current day Kadapa district of Andhra Pradesh. More….
Keerthana No. 188
Copper Sheet No. 63
Pallavi: Guttuna Gorikalella (గుట్టునఁ గోరికలెల్ల)
Ragam: Ahiri
Language: Telugu (తెలుగు)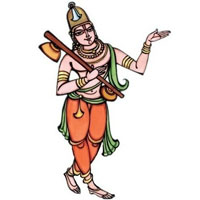 Recitals
Awaiting Contributions.
…
Awaiting Contributions.
[audio: audio-instrumental-file-name.mp3].
This Kriti was originally composed in Telugu. Other languages are for your convenience.
పల్లవి
గుట్టునఁ గోరికలెల్లఁ గొల్లవట్టీ నీ-
పట్టపుదేవికి నీకుఁ బల్లాండు పల్లండే
చరణములు
1.పచ్చల సందిదండలు బాహుపురులు మెరయ
నెచ్చెలిపై మెను సోఁక నిలుచుండి
పచ్చవిలుకానితల్లి బంగారు దోసిట నీపై
బచ్చకప్పురము చల్లీఁ బల్లాండు పల్లాండే
2.మంతనపు మాఁటలతో మాఁటుగ నిన్ను సొలసి
కొంతపు గోళ్ళ నిగ్గు గుమ్మరింపుచు
చెంతలఁ జెంగలువలు చెలులు చేనందియ్యఁగ
పంతమున నీపై వేసి పల్లాండు పల్లాండే
3.అలరుల మేడలొన అలమేలుమంగ నీ –
యలయిక దీరఁ బ్రేమ నలరఁ జేసి
కలసి వేంకటేశ నీకౌఁగిలి చేకొనీ నిదే
పలుమారు మీకుఁ బల్లాండు పల్లాండే
.
Pallavi
guTTuna@m gOrikalella@m gollavaTTI nI-
paTTapudEviki nIku@m ballAmDu pallamDE
Charanams
1.paccala samdidamDalu bAhupurulu meraya
neccelipai menu sO@mka nilucumDi
paccavilukAnitalli bamgAru dOsiTa nIpai
baccakappuramu callI@m ballAmDu pallAmDE
2.mamtanapu mA@mTalatO mA@mTuga ninnu solasi
komtapu gOLLa niggu gummarimpucu
cemtala@m jemgaluvalu celulu cEnamdiyya@mga
pamtamuna nIpai vEsi pallAmDu pallAmDE
3.alarula mEDalona alamElumamga nI –
yalayika dIra@m brEma nalara@m jEsi
kalasi vEmkaTESa nIkau@mgili cEkonI nidE
palumAru mIku@m ballAmDu pallAmDE
.

We will update this page , once we find comprehensive meaning. Feel free to contribute if you know.
.