Ustad Ghulam Ali (Urdu: غلام علی, Hindi: ग़ुलाम अली (born 1940) is a Pakistani ghazal singer of the Patiala gharana. He is not to be confused with the Indian singer Bade Ghulam Ali Khan (of whom he was a disciple) or Chhote Ghulam Ali, who is another Pakistani singer in the Qual Bachon Gharana More..
Category: Ghazals


Writer / Author: Ustad Ghulam Ali (غلام علی)


Language: Urdu (اردو)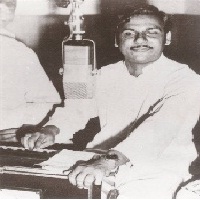 Recitals
Album:Private | Voice: U.Ghulam Ali
Album:Private | Voice: Jasbir Jassi

Awaiting Contributions.
This Ghazal was originally composed in Urdu. Other languages are for your convenience.
ہیر آکھڈی جوگیا جھوٹھ بولے
جا جھوٹھ بولے
تے کون روتھرے یار مناوندہ ای
ایسا کوئی نا ملیہ نی میں ڈھونڈھ تھکی
تے جہرا گیں نو مور لونڈا ای
سادے چم دیں جوتیاں کرے کوئی
جہرا جو د روک گووندا ای
بھلا دس کھا چیری وچولیں نو
تے کدوں ربب سچا غرن لونڈا ای
اک جات دے کھیت نو آگگ لگگی
ویکھاں ان کے کون بجھوندہ ای
دوں چوریاں غجیو دے بال دیوے
تے وارث شاہ جو سناوے آوندا ای
.
Awaiting Contribution..
.
Heer Aakhdi Jogiya Jhooth Bole,
Ja Jhooth Bole,
Te Kaun Ruthre Yaar Manavanda ei,
Aisa koi naa mileya ni main Dhoondh thaki
Te jehra gaeyan nu mor leaunda ei
Saade Cham diyan Jutiyan Kare Koi,
Jehra Jeu da Rok Gawaunda ee,
Bhala das kha chiri Vicholeyan nu,
Te Kadon Rabb sacha gharin Leaunda ee
Ik Jatt de Khet Nu Aagg Laggi
Vekhan aan ke kaun bujhavanda ee
Devan Chooriyan Ghjeo de baal dive
Te Waris Shah jo Sunave Aavanda ee
.