Composer: Sri Tallapaka Annamacharya (Annamayya అన్నమయ్య) , May 9, 1408 – February 23, 1503 was born to Narayana Suri and Lakkamamba in Tallapaka, a village in current day Kadapa district of Andhra Pradesh. More….
Keerthana No. 539
Copper Sheet No. 1300
Pallavi: Iddari gurichitimi (ఇద్దరి గూరిచితిమి)
Ragam: Kedara Gowla
Language: Telugu (తెలుగు)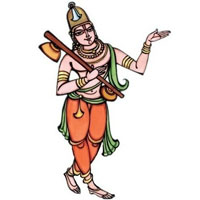 Recitals
Awaiting Contributions.
…
Awaiting Contributions.
[audio: audio-instrumental-file-name.mp3].
This Kriti was originally composed in Telugu. Other languages are for your convenience.
Pallavi
ఇద్దరి గూరిచితిమి యేము చెలికత్తెలము
పొద్దు కొకకొత్తలుగా భోగించరయ్యా
Charanams
1.ప్రేమముతో సేసపాల పెండ్లికూతురురిదె వచ్చె
ఆముకొని సరసములాడవయ్యా
ఆమనిసిగ్గులతోడ నదె తెరలో నున్నది
చేముట్టి సేవలెల్లాఁ జేయించుకోవయ్యా
2.మక్కువతో నీ మేన మరదలిదివో వచ్చె
చక్కగా పాదాలీకపై జాచవయ్యా
వెక్కసాన తమకించి వేడుకటో నున్నది
గక్కననుఁ దప్పక మొగము చూడవయ్యా
3.అరుదై శ్రీవెంకటేశ అలమేలుమంగ వచ్చె
బెరసి రతులను నిట్టె పెనగవయ్యా
గరిమ వేళగాచి నీకౌగిటిలోనే నున్నది
సరికిబేసికి నీవు చనవియ్యవయ్యా
.
Pallavi
iddari gUrichitimi yEmu chelikattelamu
poddu kokakottalugA bhOgiMcharayyA
Charanams
1.prEmamutO sEsapAla peMDlikUtururide vachche
Amukoni sarasamulADavayyA
AmanisiggulatODa nade teralO nunnadi
chEmuTTi sEvalellA@M jEyiMchukOvayyA
2.makkuvatO nI mEna maradalidivO vachche
chakkagA pAdAlIkapai jAchavayyA
vekkasAna tamakiMchi vEDukatO nunnadi
gakkananu@M dappaka mogamu chUDavayyA
3.arudai SrIveMkaTESa alamElumaMga vachche
berasi ratulanu niTTe penagavayyA
garima vELagAchi nIkaugiTilOnE nunnadi
sarikibEsiki nIvu chanaviyyavayyA
.

We will update this page , once we find comprehensive meaning. Feel free to contribute if you know.
.