Composer: Sri Tallapaka Annamacharya (Annamayya అన్నమయ్య) , May 9, 1408 – February 23, 1503 was born to Narayana Suri and Lakkamamba in Tallapaka, a village in current day Kadapa district of Andhra Pradesh. More….
Keerthana No. 17
Copper Sheet No. 3
Pallavi: Idigaka soubhagyamidigaka (ఈదిగాక సౌభాగ్యమిదిగాక)
Ragam: Mukhari
Language: Telugu (తెలుగు)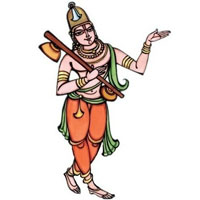 Recitals
Awaiting Contributions.
…
Awaiting Contributions.
[audio: audio-instrumental-file-name.mp3].
This Kriti was originally composed in Telugu. Other languages are for your convenience.
Pallavi
ఈదిగాక సౌభాగ్యమిదిగాక తపము మరి
ఇదిగాక వైభవం బిక నొకతిగలదా? ||
Charanams
1.అతివ జన్మము సఫలమై పరమయొగి వలె
నితర మొహోపేక్ష లిన్ని యును విదిచె
సతి కోరికలు మహాశాంతమై ఇదెచూడ
సతత విగ్నాన వాసనవోలె నుండె ||
2.తరుణి హ్రుదయము క్రుతార్ఢత బొంది విభుమీది
పరవశానంద సంపదకు నిరవాయ
సరసిజానన మనో జయమంది ఇంతలో
సరిలేక మనసు నిశ్చల భావమాయ ||
3.శ్రీ వేంకటేశ్వరుని జింతించి పరతత్వ
భావంబు నిజముగా బట్టె చెలియాత్మ
దేవోత్తముని క్రుపాధీనురాలై ఇపుడు
లావణ్యవతికి నుల్లంబు తిరమాయ ||
.
Pallavi
IdigAka soubhAgyamidigAka tapamu maRi
idigAka vaibhavaM bika nokatigaladA? ||
Charanams
1.ativa janmamu saphalamai paramayogi vale
nitara mohOpEkSha linni yunu vidiche
sati kOrikalu mahASAMtamai idechUDa
satata vignAna vAsanavOle nuMDe ||
2.taruNi hrudayamu krutArDhata boMdi vibhumIdi
paravaSAnaMda saMpadaku niravAya
sarasijAnana manO jayamaMdi iMtalO
sarilEka manasu niSchala bhAvamAya ||
3.SrI vEMkaTESvaruni jiMtiMchi paratatva
bhAvaMbu nijamugA baTTe cheliyAtma
dEvOttamuni krupAdhInurAlai ipuDu
lAvaNyavatiki nullaMbu tiramAya ||
.

We will update this page , once we find comprehensive meaning. Feel free to contribute if you know.
.