Composer: Sri Tallapaka Annamacharya (Annamayya అన్నమయ్య) , May 9, 1408 – February 23, 1503 was born to Narayana Suri and Lakkamamba in Tallapaka, a village in current day Kadapa district of Andhra Pradesh. More….
Keerthana No. 110
Copper Sheet No. 119
Pallavi: IdivO vidhi (ఇదివో వీధి)
Ragam: Salanga nata
Language: Telugu (తెలుగు)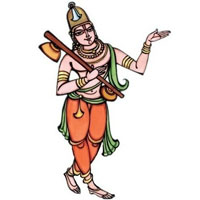 Recitals
Awaiting Contributions.
…
Awaiting Contributions.
[audio: audio-instrumental-file-name.mp3].
This Kriti was originally composed in Telugu. Other languages are for your convenience.
Pallavi
|| ఇదివో వీధివీధుల నీతనితేరు |
యెదుట శ్రీవేంకటాద్రిని తేరు ||
Charanams
|| చట్టువడ దోలె నాడు సముద్రాలపై దేరు |
ఘొట్టుగా దోలెను పౌండ్రకునిపై దేరు |
జట్టిగొని తోలె జరాసంధునిపై నదె తేరు |
కొట్టి తోలె హంసడి భక్తులపై తేరు ||
|| ఘోరమై కుంగగ దోలె కులగిరులపై దేరు |
కౌరవసేనపై దోలె గక్కన దేరు |
కోరి మధురమీద నక్రూరు గూడి తోలె దేరు |
ఆరసి సందిమాటలు ఆడదోలె దేరు ||
|| తచ్చి శిశుపాలాది దైత్యులపై దోలె దేరు |
పెచ్చుగా దోలె రుక్మిణి పెండ్లితేరు |
అచ్చపు శ్రీవేంకటేశు డలమేలుమంగ గూడి |
చెచ్చెర దోలె దిక్కుల సింగారపు దేరు ||
.
Pallavi
|| idivO vIdhivIdhula nItanitEru |
yeduTa SrIvEMkaTAdrini tEru ||
Charanams
|| caTTuvaDa dOle nADu samudrAlapai dEru |
GoTTugA dOlenu pauMDrakunipai dEru |
jaTTigoni tOle jarAsaMdhunipai nade tEru |
koTTi tOle haMsaDi Baktulapai tEru ||
|| GOramai kuMgaga dOle kulagirulapai dEru |
kauravasEnapai dOle gakkana dEru |
kOri madhuramIda nakrUru gUDi tOle dEru |
Arasi saMdimATalu ADadOle dEru ||
|| tacci SiSupAlAdi daityulapai dOle dEru |
peccugA dOle rukmiNi peMDlitEru |
accapu SrIvEMkaTESu DalamElumaMga gUDi |
ceccera dOle dikkula siMgArapu dEru ||
.

We will update this page , once we find comprehensive meaning. Feel free to contribute if you know.
.