Composer: Sri Tallapaka Annamacharya (Annamayya అన్నమయ్య) , May 9, 1408 – February 23, 1503 was born to Narayana Suri and Lakkamamba in Tallapaka, a village in current day Kadapa district of Andhra Pradesh. More….
Keerthana No. 171
Copper Sheet No. 139
Pallavi: Idiye buddhi (ఇదియే బుద్ధి)
Ragam: Mukhari
Language: Telugu (తెలుగు)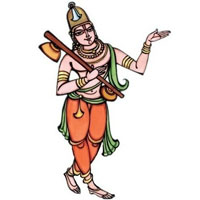 Recitals
Awaiting Contributions.
…
Awaiting Contributions.
[audio: audio-instrumental-file-name.mp3].
This Kriti was originally composed in Telugu. Other languages are for your convenience.
Pallavi
|| ఇదియే బుద్ధి నాకు నింతకంటే మర్కి లేదు |
కదిసి నీబంటనంటే కాతువు నన్నును ||
Charanams
|| నేరిచి నడచేనంటే నే గాను స్వతంత్రుడను |
నేరమి చేసేనంటే నిండును దూరు |
యీరెంటికి గాక నేను యిట్టె నీకు శరణంటే |
గారవించి వహించుక కాతువు నన్నును ||
|| వొక్కచో నర్థ మార్జించుకుండితే జన్మాలు పెక్కు |
యెక్కేనంటే మోక్షము యేడో యెర్కుగ |
యెక్కడిసుద్దులునేల యిచ్చట నీనామము |
గక్కన బేర్కొంటే దయ గాతువుగా నన్నును ||
|| తపసినయ్యేనంటే జితము కైవశము గాదు |
చపలసంసారి నైతే శాంతి యుండదు |
ఉపమలేల శ్రీవేంకటోత్తమ నీసేవ చేసి |
కపటము మానితేను కాతువు నన్నును ||
.
Pallavi
|| idiyE buddhi nAku niMtakaMTE marxi lEdu |
kadisi nIbaMTanaMTE kAtuvu nannunu ||
Charanams
|| nErici naDacEnaMTE nE gAnu svataMtruDanu |
nErami cEsEnaMTE niMDunu dUru |
yIreMTiki gAka nEnu yiTTe nIku SaraNaMTE |
gAraviMci vahiMcuka kAtuvu nannunu ||
|| vokkacO nartha mArjiMcukuMDitE janmAlu pekku |
yekkEnaMTE mOkShamu yEDO yerxuga |
yekkaDisuddulunEla yiccaTa nInAmamu |
gakkana bErkoMTE daya gAtuvugA nannunu ||
|| tapasinayyEnaMTE jitamu kaivaSamu gAdu |
capalasaMsAri naitE SAMti yuMDadu |
upamalEla SrIvEMkaTOttama nIsEva cEsi |
kapaTamu mAnitEnu kAtuvu nannunu ||
.

We will update this page , once we find comprehensive meaning. Feel free to contribute if you know.
.