Composer: Sri Tallapaka Annamacharya (Annamayya అన్నమయ్య) , May 9, 1408 – February 23, 1503 was born to Narayana Suri and Lakkamamba in Tallapaka, a village in current day Kadapa district of Andhra Pradesh. More….
Keerthana No. 209
Copper Sheet No. 146
Pallavi: Idiye Kavalenani (ఇదియే కావలెనని)
Ragam: Sriragam
Language: Telugu (తెలుగు)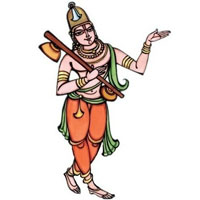 Recitals
Awaiting Contributions.
…
Awaiting Contributions.
[audio: audio-instrumental-file-name.mp3].
This Kriti was originally composed in Telugu. Other languages are for your convenience.
Pallavi
||ఇదియే కావలెనని తా గైకొని యిచ్చగించువాడె ఘనుడు |
వదలకురో హరిదాసులమత మిది వర్ణించెద నోవివేకులాలా ||
charanams
||దేవుడుగలడని మదిలో దెయుటే జన్మఫలంబు |
తావుగ నాతని నెప్పుడు దలచుటే తనభాగ్యము |
శ్రీవైష్ణవధర్మము దప్పక చెలగుటయే వైభవము |
దేవతాంతరంబులన్నియు మానినదియే సుకౄతంబు ||
||కామక్రోధము లుజ్జగించుటయే కల్యాణానుభవము |
చేముంచి పాపము సేయకమానుటే చెప్పగ లాభము |
నేమముతోడుత విరక్తుడగుటే నిర్మలానందము |
వేమరు నాచార్యసేవసేయుటే విచారింపగ దాచినధనము ||
||ప్రకౄతివికారములకు జొరకుండుటే పరమైనసాత్వికము |
సకలబంధముల బెడబాసినదే సామ్రాజ్యపదము |
ప్రకటింపగ నలమేలుమంగకును పతియగుశ్రీవేంకటవిభుని |
అకలంకుడై కొలిచియుండుటే యనంతమహిమాశయంబు ||
.
Pallavi
||idiyE kAvalenani tA gaikoni yiccagiMcuvADe GanuDu |
vadalakurO haridAsulamata midi varNiMceda nOvivEkulAlA ||
charanams
||dEvuDugalaDani madilO deyuTE janmaPalaMbu |
tAvuga nAtani neppuDu dalacuTE tanaBAgyamu |
SrIvaiShNavadharmamu dappaka celaguTayE vaiBavamu |
dEvatAMtaraMbulanniyu mAninadiyE sukRutaMbu ||
||kAmakrOdhamu lujjagiMcuTayE kalyANAnuBavamu |
cEmuMci pApamu sEyakamAnuTE ceppaga lABamu |
nEmamutODuta viraktuDaguTE nirmalAnaMdamu |
vEmaru nAcAryasEvasEyuTE vicAriMpaga dAcinadhanamu ||
||prakRutivikAramulaku jorakuMDuTE paramainasAtvikamu |
sakalabaMdhamula beDabAsinadE sAmrAjyapadamu |
prakaTiMpaga nalamElumaMgakunu patiyaguSrIvEMkaTaviBuni |
akalaMkuDai koliciyuMDuTE yanaMtamahimASayaMbu ||
.

We will update this page , once we find comprehensive meaning. Feel free to contribute if you know.
.