Composer: Sri Tallapaka Annamacharya (Annamayya అన్నమయ్య) , May 9, 1408 – February 23, 1503 was born to Narayana Suri and Lakkamamba in Tallapaka, a village in current day Kadapa district of Andhra Pradesh. More….
Keerthana No. 461
Copper Sheet No. 190
Pallavi: Ihamettido paramettido
(ఇహమెట్టిదో పరమెట్టిదో)
Ragam: Salanga nata
Language: Telugu (తెలుగు)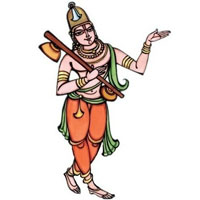 Recitals
Awaiting Contributions.
…
Awaiting Contributions.
[audio: audio-instrumental-file-name.mp3].
This Kriti was originally composed in Telugu. Other languages are for your convenience.
Pallavi
|| ఇహమెట్టిదో పరమెట్టిదో ఇక నాకు |
సహజమై హరియే శరణము నాకు ||
Charanams
|| చిత్తమిది యొకటే చింత వేవేలసంఖ్య |
పొత్తుల హరిదలచ బొద్దులేదు |
జొత్తుల కన్నుల రెండు చూపులైతే ననంతాలు |
తత్తరించి హరిరూపు దగ్గరి చూడలేదు ||
|| చేతులివియు రెండే చేష్టలు లక్షోపలక్ష |
యీతల హరి బూజింప నిచ్చలేదు |
జాతి నాలిక వొకటే చవులు కోటానగోటి |
రీతి హరినామ ముచ్చరించ వేళలేదు ||
|| వీనులివి రెండే వినికి కొలదిలేదు |
పూని హరిభక్తి విన బుద్ధి లేదు |
యీనటన శ్రీవేంకటేశు డిటు చూచినను |
తానే యేలె నిక దడబాటు లేదు ||
.
Pallavi
|| ihameTTidO parameTTidO ika nAku |
sahajamai hariyE SaraNamu nAku ||
Charanams
|| cittamidi yokaTE ciMta vEvElasaMKya |
pottula haridalaca boddulEdu |
jottula kannula reMDu cUpulaitE nanaMtAlu |
tattariMci harirUpu daggari cUDalEdu ||
|| cEtuliviyu reMDE cEShTalu lakShOpalakSha |
yItala hari bUjiMpa niccalEdu |
jAti nAlika vokaTE cavulu kOTAnagOTi |
rIti harinAma muccariMca vELalEdu ||
|| vInulivi reMDE viniki koladilEdu |
pUni hariBakti vina buddhi lEdu |
yInaTana SrIvEMkaTESu DiTu cUcinanu |
tAnE yEle nika daDabATu lEdu ||
.

We will update this page , once we find comprehensive meaning. Feel free to contribute if you know.
.