Composer: Kancherla Gopanna (కంచెర్ల గోపన్న) popularly known as Bhadrachala Ramadasu (భద్రాచల రామదాసు), (c1620 – 1680CE) was born in an affluent Niyogi Brahmin family to Linganna Murthy and Kamamba in Nelakondapalli village of Khammamett Taluk, Warangal Division of (erstwhile Hyderabad State) northern Andhra Pradesh.
Raagam: yadukula kAmBhOji, tALam:miSra cApu
Taalam: Caapu
Language: Telugu (తెలుగు)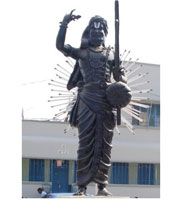 Recitals
Ikshvaku kula tilaka | ఇక్ష్వాకు కుల తిలక
Album: Unknown | Voice: M. Balamurali Krishna

Awaiting Contributions.
This Kriti was originally composed in Telugu. Other languages are for your convenience.
ఇక్ష్వాకు కులతిలక ఇకనైన పలుకవే రామచంద్ర
నన్ను రక్షింప కున్నను రక్షకు లెవరింక రామచంద్ర
చుట్టు ప్రాకారములు సొంపుతో కట్టిస్తి రామచంద్ర
ఆ ప్రాకారముకు బట్టె పదివేల వరహాలు రామచంద్ర
భరతునకు చేయిస్తి పచ్చల పతకము రామచంద్ర
ఆ పతకమునకు పట్టె పదివేల వరహాలు రామచంద్ర
శత్రుఘ్నునకు చేయిస్తి బంగారు మొలతాడు రామచంద్ర
ఆ మొల త్రాటికి పట్టె మొహరీలు పదివేలు రామచంద్ర
లక్ష్మణునకు చేయిస్తి ముత్యాల పతకము రామచంద్ర
ఆ పతకమునకు పట్టె పదివేల వరహాలు రామచంద్ర
సీతమ్మకు చేయిస్తి చింతాకు పతకము రామచంద్ర
ఆ పతకమునకు పట్టె పదివేల వరహాలు రామచంద్ర
కలికి తురాయి నీకు మెలుకువగ చేయిస్తి రామచంద్ర
నీవు కులుకుచు తిరిగేవు ఎవరబ్బ సొమ్మని రామచంద్ర
నీ తండ్రి దశరథ మహరాజు పెట్టెనా రామచంద్ర
లేక నీ మామ జనక మహరాజు పంపెనా రామచంద్ర
అబ్బ తిట్టితినని ఆయాస పడవద్దు రామచంద్ర
ఈ దెబ్బల కోర్వక అబ్బ తిట్టితినయ్య రామచంద్ర
భక్తులందరిని పరిపాలించెడి శ్రీ రామచంద్ర
నీవు క్షేమముగ శ్రీ రామదాసుని యేలుము రామచంద్ర
.
P
ikshvAku kula tilaka ika naina balukavu rAmachandra
nannu rakshimpa kunnanu rakshaku levarinka rAmachandra ||
Oh Ramachandra, the noblest person of Ikshvaku dynasty, if you don't protect me, who else is there for me?
C
chuTTu prAkaramulu somputo gaTTisti rAma chandra
A prAkAramula ku baTTe padi vELa varahAlu rAmachandra||
I got the ramparts around the temple built, spending ten thousand varahaaalu (money denomination), Oh Ramachandra.
C
gOpura manTapAlu kuduruga gaTTisti rAma chandra
nanu krottaga chooDaka ittari brOvumu rAma chadra ||
I got the pavilions built in the towers.
Please don't treat me as a stranger. Protect me, Oh Ramachandra.
C
bharatunaku chEyisti pachchala patakamu rAma chandra
A patakanunaku paTTe padi vEla varahAlu rAma chandra ||
I offered an emerald medallion to Bharata, spending ten thousand varahalu, Oh Ramachandra.
C
Satrughnunaku chEyisti bangAru molatAdu rAmachandra
A mola trATiki paTTe mohareelu padivElu rAmachandra ||
I presented a gold belt to Satrughna, spending ten thousand moharilu (denomination of money), oh Ramachandra.
C
lakshmaNunaku mutyAla patakamu rAmachandra
A pata kamunaku padi vEla varahAlu rAmachandra ||
I presented a beautiful pearl medallion to Lakshmana spending ten thousand varahaalu, Oh Ramachandra.
C
seetammaku chEyisti chintAku patakamu rAmachandra
A patakamunaku paTTe padi vEla varahAlu rAmachandra ||
I offered a valuable ornament to Mother Sita, costing ten thousand varahaalu, Oh Ramachandra.
C
vAhanamulu meeku varusa to chEyisti rAma chandra
jagan mOhana sankeLLu vEsiri rAma chandra
I presented vahanas (vehicles) to each one of you, but my legs are chained, oh Lord that entices the whole universe.
C
kaliki turAyi neeku merupuga chEyiste rAma chandra
neevukulu kuchu tirigedavu
yevarabba sommani rAMachandra ||
I presented you a pretty and glittering plume with which you go about in all pride.
Do you think you inherited all this treasure?
C
mee tanDri daSaratha mahArAju peTTenA rAmachandra
lEka nee mAma janaka mahA rAju pampena rAmachandra ||
Did emperor Dasaratha, your father, present you with all these ornaments?
Or, did emperor Janaka, your father-in-law send them to you, Oh Ramachandra?
C
abba tiTTiti nani AyAsa paDa vaddu rAma chandra
ee debba la kOrvaka abba tiTTiti nayya rAmachandra ||
Pardon me, don't be weary.
I blamed you because I was not able to bear the torture, Oh Ramachandra.
C
ETi challina neeLLAye nA bratuku rAmachandra
nEnu adhamurAlu kanTe anyAya maitini rAma chandra ||
My life has become useless like the water sprinkled on a river.
I became worse than the most down trodden, Oh Ramachandra.
C
sarkAru paikamu truNamuga yenchaka rAma chandra
debbalu tinalEnu appu teerchu rAma chandra ||
I didn't consider that the government money was so precious, while spending it for you.
Now, I cannot bear the lashes any more.
Redeem me from this debt, Oh Ramachandra.
C
kausalya putruDa daSaratha tanayuDa rAma chandra
kAvu kshEmamuga bhadradri nelakonna Sree rAma chandra ||
Oh son of Dasaratha and Kausalya, you established your self well in Bhadrachalam.
Please save me.
C
bhaktu landarini paripAlincheDi Sree rAma chandra
neevu kshEmamuga Sree rAma dAsuni Elumu rAma chandra ||
Oh Ramachandra, you are the savior of all devotees.
Please protect and take care of Sri Rama dasu.
.