Composer: Sri Tallapaka Annamacharya (Annamayya అన్నమయ్య) , May 9, 1408 – February 23, 1503 was born to Narayana Suri and Lakkamamba in Tallapaka, a village in current day Kadapa district of Andhra Pradesh. More….
Keerthana No. 255
Copper Sheet No. 293
Pallavi: Imdaka Mapani (ఇందాకా మాపని)
Ragam: Mangala kousika
Language: Telugu (తెలుగు)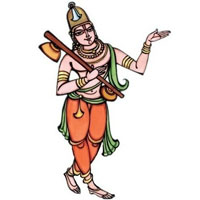 Recitals
Awaiting Contributions.
…
Awaiting Contributions.
[audio: audio-instrumental-file-name.mp3].
This Kriti was originally composed in Telugu. Other languages are for your convenience.
Pallavi
|| ఇందాకా మాపని యిక నీపని | కందువాయ వలపులు కపట మేమున్నది ||
Charanams
|| చేతులనె మొక్కిమొక్కి సెలవులనే నవ్వునవ్వి | ఆతలనే నిలచున్న దదివో చెలి |
కాతరాన యికమీద గలిగిన పనులు నీ- | చేతి నింతె యిక నీతో చెప్పనేమి వున్నది ||
|| కన్నులనె నిన్నుజూచి కానుక నీకంది యిచ్చి | అన్నిటా గుట్టున నున్నదదివో చెలి |
సన్నలూను మీలోని సరసాలు నిటమీద | పన్నుకో నీవెనేర్తువు పలుక నేమున్నది ||
|| మచ్చిక నీకు జేసి మనసు నీపై బెట్టి | యిచ్చట గాగలించె నిదివో చెలి |
అచ్చపు శ్రీ వేంకటేశ ఇట్టె నీవు గూడితివి | యిచ్చకము లిటమీద నిన్ని నెర్కుగుదువు ||
.
Pallavi
|| iMdAkA mApani yika nIpani | kaMduvAya valapulu kapaTa mEmunnadi ||
charanams
|| cEtulane mokkimokki selavulanE navvunavvi | AtalanE nilacunna dadivO celi |
kAtarAna yikamIda galigina panulu nI- | cEti niMte yika nItO ceppanEmi vunnadi ||
|| kannulane ninnujUci kAnuka nIkaMdi yicci | anniTA guTTuna nunnadadivO celi |
sannalUnu mIlOni sarasAlu niTamIda | pannukO nIvenErtuvu paluka nEmunnadi ||
|| maccika nIku jEsi manasu nIpai beTTi | yiccaTa gAgaliMce nidivO celi |
accapu SrI vEMkaTESa iTTe nIvu gUDitivi | yiccakamu liTamIda ninni nerxuguduvu ||
.

We will update this page , once we find comprehensive meaning. Feel free to contribute if you know.
.