Composer: Sri Tallapaka Annamacharya (Annamayya అన్నమయ్య) , May 9, 1408 – February 23, 1503 was born to Narayana Suri and Lakkamamba in Tallapaka, a village in current day Kadapa district of Andhra Pradesh. More….
Keerthana No. 253
Copper Sheet No. 1144
Pallavi: Imdaka nerxaganaiti (ఇందాకా నెఱగనైతి)
Ragam: Telugu kambhodhi
Language: Telugu (తెలుగు)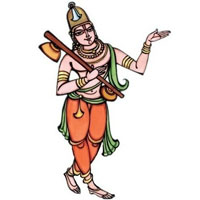 Recitals
Awaiting Contributions.
…
Awaiting Contributions.
[audio: audio-instrumental-file-name.mp3].
This Kriti was originally composed in Telugu. Other languages are for your convenience.
Pallavi
|| ఇందాకా నెఱగనైతి నిక గపటములేల |
చెంది యిట్టె నాతోడ జెప్పవయ్య మాటలు ||
Charanams
|| మంతనానకు రాగాను మనసెల్లా నొక్కటాయ |
పంతము నీ వియ్యగాను పాసెగోపము |
అంతరంగము చెప్పగా ననుమానమింక నెంచ |
రంతులు సేయక యిట్టె రావయ్య యింటికి ||
|| సరసము నీవాడగా చల్లనాయనా మేను |
సరుస గూచుండగాను సమ్మతించితివి |
యెరవులేక నవ్వగా నిరవాయ గూరిములు |
బిరిదులెల్లా గంటి బెట్టవయ్య విడెము ||
|| గక్కన నీవు గూడగా కాతాళము లణగె |
మిక్కిలి మన్నించగాను మెచ్చితి నేను |
అక్కున శ్రీ వేంకటేశ అలమేలు మంగను నేను |
వొక్కటై కూడితి విట్టె వుండవయ్య వొద్దను ||
.
Pallavi
|| iMdAkA nerxaganaiti nika gapaTamulEla |
ceMdi yiTTe nAtODa jeppavayya mATalu ||
Charanams
|| maMtanAnaku rAgAnu manasellA nokkaTAya |
paMtamu nI viyyagAnu pAsegOpamu |
aMtaraMgamu ceppagA nanumAnamiMka neMca |
raMtulu sEyaka yiTTe rAvayya yiMTiki ||
|| sarasamu nIvADagA callanAyanA mEnu |
sarusa gUcuMDagAnu sammatiMcitivi |
yeravulEka navvagA niravAya gUrimulu |
biridulellA gaMTi beTTavayya viDemu ||
|| gakkana nIvu gUDagA kAtALamu laNage |
mikkili manniMcagAnu mecciti nEnu |
akkuna SrI vEMkaTESa alamElu maMganu nEnu |
vokkaTai kUDiti viTTe vuMDavayya voddanu ||
.

We will update this page , once we find comprehensive meaning. Feel free to contribute if you know.
.