Composer: Sri Tallapaka Annamacharya (Annamayya అన్నమయ్య) , May 9, 1408 – February 23, 1503 was born to Narayana Suri and Lakkamamba in Tallapaka, a village in current day Kadapa district of Andhra Pradesh. More….
Keerthana No. 334
Copper Sheet No. 65
Pallavi: Imdariki na bhayambulichchu
(ఇందరికి న భయంబులిచ్చు)
Ragam: Samantham
Language: Telugu (తెలుగు)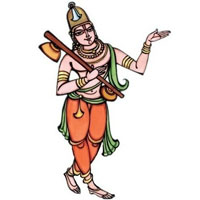 Recitals
Imdariki Na Bhayambulichchu | ఇందరికి న భయంబులిచ్చు
Album: Private | Voice: G.Balakrishna Prasad
Imdariki Na Bhayambulichchu | ఇందరికి న భయంబులిచ్చు
Album: Private | Voice: Nirmal Sundararajan

Awaiting Contributions.
This Kriti was originally composed in Telugu. Other languages are for your convenience.
Pallavi
ఇందరికి న భయంబులిచ్చు చేయి
కందువగు మంచి బంగారు చేయి॥౨
Charanams
1.వెలలేని వేదములు వెదకి తెచ్చినచేయి
చిలుకు గుబ్బలి కింద చేర్చు చేయి
కలికి యగు భూకాంత కౌగిలించినచేయి
వలనైన కొనగోళ్ళ వాది చేయి ||
2.ఇందరికి ౨తనివోక బలిచేత దానమడిగిన చేయి
ఒనరంగ భూదాన మొసగు చేయి
మొనసి జలనిధి యమ్ముమొనకు దెచ్చిన చేయి
ఎనయ నాగేలు ధరియించు చేయి ఇందరికి ||
3.పురసతుల మానములు పొల్లసేసినచేయి
తురగంబు బరపెడి దొడ్డచేయి
తిరువేంకటాచలాదీశుడై మోక్షంబు
-తెరువు ప్రాణుల కెల్ల తెలిపెడి చేయి ||
.
Pallavi
iMdariki na bhayaMbulichchu chaeyi
kaMduvagu maMchi baMgaaru chaeyi
Charanams
1.velalaeni vaedamulu vedaki techchinachaeyi
chiluku gubbali kiMda chaerchu chaeyi
kaliki yagu bhookaaMta kaugiliMchinachaeyi
valanaina konagOLLa vaadi chaeyi ||
2.iMdariki ~2tanivOka balichaeta daanamaDigina chaeyi
onaraMga bhoodaana mosagu chaeyi
monasi jalanidhi yammumonaku dechchina chaeyi
enaya naagaelu dhariyiMchu chaeyi iMdariki ||
3.purasatula maanamulu pollasaesinachaeyi
turagaMbu barapeDi doDDachaeyi
tiruvaeMkaTaachalaadeeSuDai mOkshaMbu
-teruvu praaNula kella telipeDi chaeyi ||
.

We will update this page , once we find comprehensive meaning. Feel free to contribute if you know.
.