Composer: Sri Tallapaka Annamacharya (Annamayya అన్నమయ్య) , May 9, 1408 – February 23, 1503 was born to Narayana Suri and Lakkamamba in Tallapaka, a village in current day Kadapa district of Andhra Pradesh. More….
Keerthana No. 207
Copper Sheet No. 66
Pallavi: Imdarinelita Vikanele (ఇందరినేలిత విఁకనేలె)
Ragam: Mukhari
Language: Telugu (తెలుగు)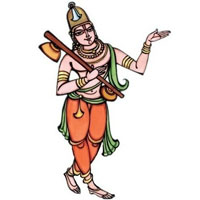 Recitals
Awaiting Contributions.
…
Awaiting Contributions.
[audio: audio-instrumental-file-name.mp3].
This Kriti was originally composed in Telugu. Other languages are for your convenience.
పల్లవి
ఇందరినేలిత విఁకనేలె నీ-
యందపుఁ బనులకు నంపుదు గాక
చరణములు
1.పొక్కుచు నిదె వలపుల సిమ్హాసన-
మెక్కితి వంగన యిఁకనేమే
పుక్కిటి నిట్టుర్పుల ప్రసాదములు
చక్కని చెలులకుఁ జల్లుడు గాక
2.పరిమళపు నుదుటఁ బట్టునఁ బట్టము
ఇరువుగఁ గట్టితివిఁ కనేమే
తరగని మేని ప్రతాపానలమున
అరుదగు సిగ్గుల నణఁతువు గాక
3.రాఁపుల మోహపురతుల రాజ్యమిది
యేపునఁ జేసితివిఁకనేమె
పైపై వేంకటపతిరూప సిరులు
చేపడె నిన్నిటఁ జెలఁగుదు గాక.
.
Pallavi
imdarinElita vi@mkanEle nI-
yamdapu@m banulaku nampudu gAka
Charanams
1.pokkucu nide valapula simhAsana-
mekkiti vamgana yi@mkanEmE
pukkiTi niTTurpula prasAdamulu
cakkani celulaku@m jalluDu gAka
2.parimaLapu nuduTa@m baTTuna@m baTTamu
iruvuga@m gaTTitivi@m kanEmE
taragani mEni pratApAnalamuna
arudagu siggula naNa@mtuvu gAka
3.rA@mpula mOhapuratula rAjyamidi
yEpuna@m jEsitivi@mkanEme
paipai vEmkaTapatirUpa sirulu
cEpaDe ninniTa@m jela@mgudu gAka.
.

We will update this page , once we find comprehensive meaning. Feel free to contribute if you know.
.