Composer: Sri Tallapaka Annamacharya (Annamayya అన్నమయ్య) , May 9, 1408 – February 23, 1503 was born to Narayana Suri and Lakkamamba in Tallapaka, a village in current day Kadapa district of Andhra Pradesh. More….
Keerthana No. 136
Copper Sheet No. 1124
Pallavi: Imdukena Vibhudu (ఇందుకేనా విభుడు)
Ragam: Goula
Language: Telugu (తెలుగు)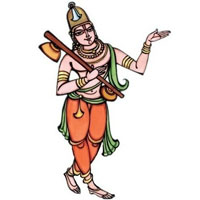 Recitals
Awaiting Contributions.
…
Awaiting Contributions.
[audio: audio-instrumental-file-name.mp3].
This Kriti was originally composed in Telugu. Other languages are for your convenience.
Pallavi
|| ఇందుకేనా విభుడు నీయింట నెలకొన్నాడు | కందువెర్కుగుదువు యీకత నీవే నేర్తువే ||
Charanams
|| నయమెంత గలిగినా ననుపులకే మేలు | ప్రియమెంత గలిగినా పెనపులకే మేలు |
జయమెంత గలిగినా చనవులకే మేలు | క్రియలెర్కుగుదువు యీకీలు నీవే నేర్తువే ||
|| మొగమెంత చూచినా మోహానకే మూలము | తగవెంత నెరపినా తగులుకే మూలము |
నగవెంత గలిగినాను నమ్మికలకు మూలము | పగటెరుగుదువు యీపాడి నీవే నేర్తువే ||
|| వూడిగ మెంతసేసినా వొద్దికలకే దాపు | వేడుకెంత నిలిపినా విర్క్ర్కవీగుటకే దాపు |
కూడితివిన్ని చందాల కోరిక శ్రీ వేంకటేశు | జాడెర్కుగుదువు సరసము సరసము నీవే నేర్తువు ||
.
Pallavi
|| iMdukEnA viBuDu nIyiMTa nelakonnADu | kaMduverxuguduvu yIkata nIvE nErtuvE ||
Charanams
|| nayameMta galiginA nanupulakE mElu | priyameMta galiginA penapulakE mElu |
jayameMta galiginA canavulakE mElu | kriyalerxuguduvu yIkIlu nIvE nErtuvE ||
|| mogameMta cUcinA mOhAnakE mUlamu | tagaveMta nerapinA tagulukE mUlamu |
nagaveMta galiginAnu nammikalaku mUlamu | pagaTeruguduvu yIpADi nIvE nErtuvE ||
|| vUDiga meMtasEsinA voddikalakE dApu | vEDukeMta nilipinA virxrxavIguTakE dApu |
kUDitivinni caMdAla kOrika SrI vEMkaTESu | jADerxuguduvu sarasamu sarasamu nIvE nErtuvu ||
.

We will update this page , once we find comprehensive meaning. Feel free to contribute if you know.
.