Composer: Sri Tallapaka Annamacharya (Annamayya అన్నమయ్య) , May 9, 1408 – February 23, 1503 was born to Narayana Suri and Lakkamamba in Tallapaka, a village in current day Kadapa district of Andhra Pradesh. More….
Keerthana No. 80
Copper Sheet No. 314
Pallavi: Imte yimte (ఇంతే యింతే)
Ragam: Thodi
Language: Telugu (తెలుగు)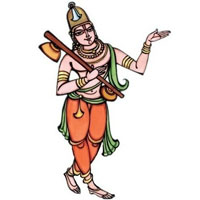 Recitals
Awaiting Contributions.
…
Awaiting Contributions.
[audio: audio-instrumental-file-name.mp3].
This Kriti was originally composed in Telugu. Other languages are for your convenience.
Pallavi
|| ఇంతే యింతే యింకా నెంత చూచినా |
చింతల జిగురు లెక్కి చేగ దేరినట్లు ||
Charanams
|| వుల్లములో నెంచ నెంచ నుద్యోగములే పెక్కు |
పొల్లకట్టు వంచ దంచ బోగులైనట్లు |
బల్లిదుని హరినాత్మ భావించుటొకటే |
ముల్లు ముంట దీసి సుఖమున నుండినట్లు ||
|| ఆనిన సంసారమున నలయికలే పెక్కు |
చానిపి జవి వేడితే జప్పనైనట్టు |
పూని హరి జేతులారా బూజించు టొకటే |
నూనె గొలిచి కుంచము నుసికిలినట్లు ||
|| వెనక దలచుకొంటే విజ్ౙానములే పెక్కు |
తిన దిన వేమెల్లా దీపైనట్టు |
చనవై శ్రీ వేంకటేశు శరణనుటొక్కటే |
పని వడి చెర్కకున బండు వండినట్లు ||
.
Pallavi
|| iMtE yiMtE yiMkA neMta cUcinA |
ciMtala jiguru lekki cEga dErinaTlu ||
Charanams
|| vullamulO neMca neMca nudyOgamulE pekku |
pollakaTTu vaMca daMca bOgulainaTlu |
balliduni harinAtma BAviMcuTokaTE |
mullu muMTa dIsi suKamuna nuMDinaTlu ||
|| Anina saMsAramuna nalayikalE pekku |
cAnipi javi vEDitE jappanainaTTu |
pUni hari jEtulArA bUjiMcu TokaTE |
nUne golici kuMcamu nusikilinaTlu ||
|| venaka dalacukoMTE vij~jAnamulE pekku |
tina dina vEmellA dIpainaTTu |
canavai SrI vEMkaTESu SaraNanuTokkaTE |
pani vaDi cerxakuna baMDu vaMDinaTlu ||
.

We will update this page , once we find comprehensive meaning. Feel free to contribute if you know.
.