Composer: Sri Tallapaka Annamacharya (Annamayya అన్నమయ్య) , May 9, 1408 – February 23, 1503 was born to Narayana Suri and Lakkamamba in Tallapaka, a village in current day Kadapa district of Andhra Pradesh. More….
Keerthana No. 430; Volume No. 4
Copper Sheet No. 373
Pallavi: Indiraramanu (ఇందిరారమణు)
Ragam: Bouli
Language: Telugu (తెలుగు)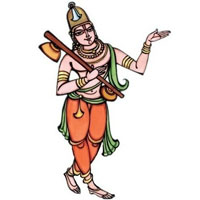 Recitals
Indiraramanu | ఇందిరారమణు
Album: Private | Voice: S.P.Balasubrahmanyam
Indiraramanu | ఇందిరారమణు
Album: Private | Voice: Unknown

Awaiting Contributions.
This Kriti was originally composed in Telugu. Other languages are for your convenience.
Pallavi
ఇందిరారమణు దెచ్చి యియ్యరో మా కిటువలె
పొంది యీతని పూజింప పొద్దాయనిపుడు !!
Charanams
1.ధారుణి మైరావణు దండించి రాముదెచ్చి
నేరుపున మించిన అంజనీతనయా
ఘోర(తూల)నాగపాశముల కొట్టివేసి యీతని
కారుణ్యమందినట్టి ఖగరాజ గరుడా !!
2.నానాదేవతలకు నరసింహు కంభములో
పానిపట్టి చూపినట్టి ప్రహ్లాదుడా
మానవుడౌ కృష్ణ మహిమల విశ్వరూపు
పూని బండి నుంచుకొన్న పోటుబంట అర్జునా !!
3.శ్రీ వల్లభునకు అశేష కైంకర్యముల
శ్రీ వేంకటాద్రివైన శేషమూరితీ
కైవసమైనయట్టి కార్తవీర్యార్జునుడా
దేవుని నీవేళనిట్టె తెచ్చి మాకు నియ్యరే !!
.
Pallavi
indirAramaNu decchi yiyyarO mA kiTuvale
pondi yItani poojimpa poddAyanipuDu !!
Charanams
1.dHAruNi mairAvaNu danDinchi rAmudecchi
nErupuna minchina anjanItanayA
ghOra(toola)nAgapASamula koTTivEsi yItani
kAruNyamandinaTTi khagarAja garuDA !!
2.nAnAdEvatalaku narasiMhu kambhamulO
pAnipaTTi choopinaTTi prahlAduDA
mAnavuDou kRshNa mahimala viSwaroopu
pooni banDi nunchukonna pOTubanTa arjunA !!
3.SrI vallabhunaku aSEsha kaimkaryamula
SrI vEnkaTAdrivaina SEshamooritI
kaivasamainayaTTi kArtavIryArjunuDA
dEvuni nIvELaniTTe tecchi mAku niyyarE !!
.

We will update this page , once we find comprehensive meaning. Feel free to contribute if you know.
.