Composer: Sri Tallapaka Annamacharya (Annamayya అన్నమయ్య) , May 9, 1408 – February 23, 1503 was born to Narayana Suri and Lakkamamba in Tallapaka, a village in current day Kadapa district of Andhra Pradesh. More….
Keerthana No. 34
Copper Sheet No. 5
Pallavi: Innimugalugu (ఇన్నిముఁగలుగు)
Ragam: Nadaramakriya
Language: Telugu (తెలుగు)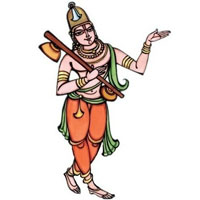 Recitals
Awaiting Contributions.
…
Awaiting Contributions.
[audio: audio-instrumental-file-name.mp3].
This Kriti was originally composed in Telugu. Other languages are for your convenience.
పల్లవి
ఇన్నిముఁగలుగు టేజన్మముననై న్ఁ
జెన్నలర హరినేవ సిద్ధించుకోరకు
చరణములు
1.అరయ వేదాద్యయన మది బ్రహ్మశుద్ధికోర
కిరవై నశాస్త్రంబులెరుకకోరకు
తరి యఙ్ఞములు రుణోత్తారమమ్యోడికోరకు
సరిలేనిదనములు జన్మములకోరకు
2.మమకారదూరంబు మనసు గేలుచుటకోరకు
సమవివేకంబు శాంతములకొరకు
అమర శ్రీతిరువేంకటధ్రీశుమనసు ం నే
జముగేలుచుబ్రహ్మవిఙ్ఞానంబుకోరకు
.
Pallavi
innimu@mgalugu TEjanmamunanai n@m
jennalara harinEva siddhimchukOraku
Charanams
1.araya vEdAdyayana madi brahmaSuddhikOra
kiravei naSAstrambulerukakOraku
tari ya~m~namulu ruNOttAramamyODikOraku
sarilEnidanamulu janmamulakOraku
2.mamakAradUrmbu manasu gEluchuTakOraku
samavivEkambu SAmtamulakoraku
amara SrItiruvEmkaTadhrISumanasu M nE
jamugEluchubrahmavi~m~nAnambukOraku
.

We will update this page , once we find comprehensive meaning. Feel free to contribute if you know.
.